George Costanza from the timeless-sitcom Seinfeld was known for some fine exits. Over the course of several occupation changes, he finally figures out that leaving on a high-note can have a positive impact on someone. Costanza's strategy appears to be carrying over to today's corporate world, not that there's anything wrong with that.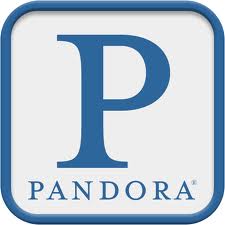 Pandora (NYSE:P) reported better-than-expected results for the fourth quarter after Thursday's closing bell. The Internet-radio company posted a loss of $14.6 million (9 cents per share). Excluding items, the loss was 4 cents per share, smaller than the 5-cent loss expected by Wall Street. Revenue surged 54 percent from a year earlier to $125.1 million, beating analysts' estimates of $122.8 million.
After struggling with rising content-acquisition costs for several quarters, Pandora managed to increase its bill only 59 percent in the fourth quarter, compared to a 75 percent gain in the previous quarter. The company is also limiting users of mobile devices to 40 hours of free listening per month in order to cut down on expenses.
In after-hours trading, shares screamed 20 percent higher. However, shortly after the earnings statement, Pandora CEO Joe Kennedy announced he was leaving on a high-note and said it was his time to part ways. He has led the company since July 2004 and will continue his current role until his successor is named. Under Kennedy's stewardship, Pandora has grown to over 67 million monthly active listeners.
"As I near the start of my tenth year at the helm of Pandora, I am incredibly proud of the team and what we have accomplished in redefining radio. As part of our Board discussions of the road that lies ahead, I reached the conclusion and advised the Board that the time is right to begin a process to identify my successor," said Kennedy. "There is a tremendous market opportunity ahead and I look forward to continuing to work with all the great people at Pandora to keep driving the business forward."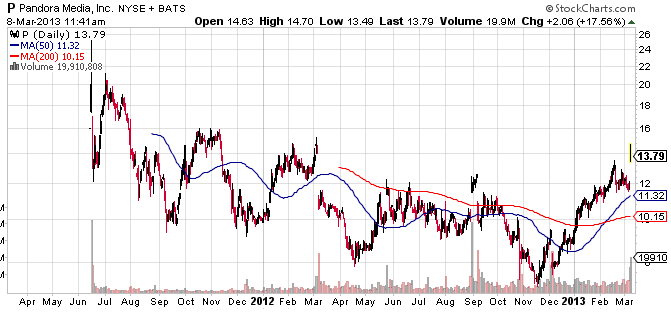 The abrupt departure comes as Pandora shares hit fresh 52-week highs. On Friday, shares reached as high as $14.70. As the chart above shows, Pandora has struggled as a publicly-traded company. Recent headwinds include speculation about tech giants Apple (NASDAQ:AAPL) and Google (NASDAQ:GOOG) entering the streaming music subscription business. However, Pandora shares are up more than 50 percent year-to-date, easily outpacing other popular Internet companies such as Facebook (NASDAQ:FB) and Amazon.com (NASDAQ:AMZN).
Don't Miss: Here's More Depressing News for the PC Industry