Did Steve Jobs Kill Nike's Google Glass Predecessor?
Was Apple's (NASDAQ:AAPL) former CEO responsible for ending a project that could have been Nike's (NYSE:NKE) version of Google (NASDAQ:GOOG) Glass? Nike has already won accolades for its FuelBand product, a revolutionary wearable tech device that monitors a user's physical activity. FuelBand helped the wearable tech industry generate sales worth $800 million last year, according to Juniper Research. However, the multinational sports accessories corporation may have acquired an even bigger slice of the wearable tech market if it had continued development of another type of wearable tech device.
In the early 2000s, Nike developed an eyewear prototype that was code-named "Magneto." The concept was to pare down the bulkiness of traditional glasses by eliminating the need for supporting earpieces. This was done by using medical-grade labels and adhesives to attach magnets to the side of a user's head. The magnets would then attach to matching magnets in the ultra-lightweight eyeglasses, holding the glasses in place without the use of earpieces.
However, in the end Nike CEO Mark Parker decided to kill the project. Parker credits Steve Jobs's input and natural "B.S. meter" in convincing him to end further investment into the innovative eyewear device.
Although Nike's Magneto glasses may not have contained a computer like Google Glass, it is easy to imagine what the sports accessory company may have eventually turned this product into. After all, how hard would it be to integrate a FuelBand device into Magneto's construction?
On the other hand, Steve Jobs may have been right on the money when he advised Parker to abandon the magnetic eyeglasses concept. "I didn't think consumers would actually get to a point where they were comfortable taping magnets to their head. There were better solutions," Parker told Fast Company.
Here's how Apple and Nike have traded so far this week.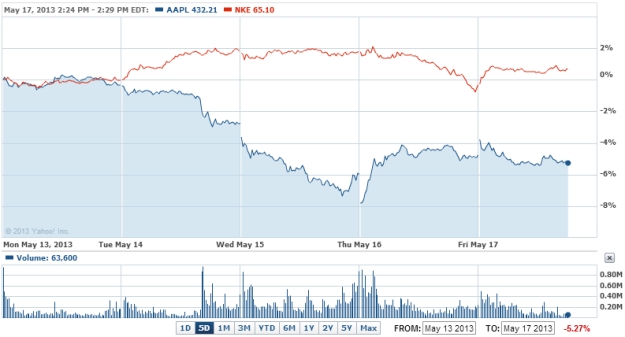 Follow Nathanael on Twitter (@ArnoldEtan_WSCS)
Don't Miss: Hey, Hedge Fund Managers Still Love Apple!