Did the Kindle Just Receive a Target on its Back?
Shares of Amazon.Com Inc. (NASDAQ:AMZN), the world's largest online retailer, have surged more than 17 percent since the company reported better-than-expected earnings last week. Revenue jumped 34 percent as the Kindle Fire was the bestselling item for the company, shipping 4.7 million million units in the quarter. However, some retailers are closing the book on Kindle e-readers.
On Wednesday, Target Corp. (NYSE:TGT) revealed plans to stop selling Kindle e-book readers at stores. Target "is phasing out Amazon and Kindle branded products in the spring of 2012," Target spokeswoman Molly Snyder explained, according to WSJ. Target started selling the Kindle in 2010, becoming the first brick-and-mortar retailer to do so. Amazon's Kindle products have already been removed from Target's website, but visitors can still find third-party accessories for the Kindle Fire.
Don't Miss: Did Amazon Create a Niche for the Kindle Fire?
As the picture below from The Verge shows, a leaked internal memo explains that Target will continue to restock Amazon hardware up until Mother's Day, May 13. The memo also states that the "Kindle Touch will be on ad the week of May 6."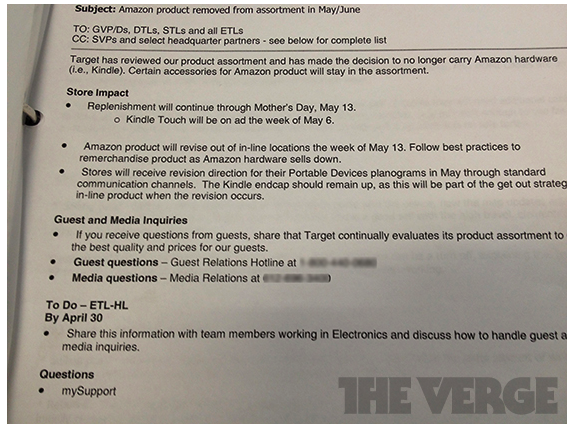 Some believe Target's move is an attempt to prevent showrooming, which is when customers come into a store to see and test a product in person, but end up purchasing it from an online retailer at a cheaper price. However, it may be a combination of factors.  In January, Target announced it will feature special Apple Inc. (NASDAQ:AAPL) displays in 25 of its stores in order to increase customer traffic and help combat showrooming. With Apple products also available at several other stores such as Best Buy (NYSE:BBY) and Wal-Mart (NYSE:WMT), perhaps Apple is trying to trim some tablet competition where possible and Target is simply along for the ride?
If Apple is not applying pressure to Target, the heat may be coming from Microsoft Corp. (NASDAQ:MSFT) and Barnes & Noble Inc. (NYSE:BKS). The two companies announced earlier this week that the Windows maker is investing $300 million into the booksellers' Nook tablet business. The companies explained in a press release, "One of the first benefits for customers will be a NOOK application for Windows 8, which will extend the reach of Barnes & Noble's digital bookstore by providing one of the world's largest digital catalogues of e-Books, magazines and newspapers to hundreds of millions of Windows customers in the U.S. and internationally." Microsoft also gains much needed exposure to the tablet industry. If the tech giant can eliminate an outlet for a competitor tablet such as the Kindle at Target stores, all the better for Microsoft.
Investor Insight: Are You Ready for Apple Mobile?