DisplayMate Researcher: Apple Is Lagging Competitors in Display Tech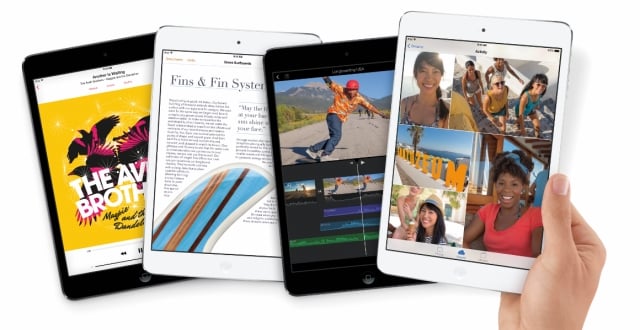 According to a recent research note from display testing company DisplayMate Technologies, Apple (NASDAQ:AAPL) has surrendered the display innovation lead to competitors such as Amazon (NASDAQ:AMZN), Google (NASDAQ:GOOG), LG, and Samsung (SSNLF.PK). In a new research note, DisplayMate president Dr. Raymond M. Soneira argued why he believes Apple's latest devices have fallen behind in display quality.
One of the primary reasons that Apple's device displays are less impressive than comparable displays from other companies is Apple's continued use of "lower performance" a-Si (amorphous Silicon) and IGZO (Indium gallium zinc oxide) display technologies. As noted by Dr. Soneira, IGZO and a-Si displays have a limited color gamut, brightness, and power efficiency compared newer LCD technologies. On the other hand, DisplayMate noted that the iPad Air's IGZO display was an improvement over previous a-Si iPad displays.
DisplayMate also found that Apple's iPad mini with Retina display had a smaller color gamut than Google's Nexus 7 and Amazon's Kindle Fire HDX 7. DisplayMate gave the Kindle Fire HDX 7 especially high marks for its use of the recently developed "Quantum Dots" technology, which produces highly saturated primary colors.
"Quantum Dots are going to revolutionize and reenergize LCDs for the next 5+ years," predicted Dr. Soneira. "While they have been under development for many years, in 2013 they made it out of the labs and into consumer products: in some models of Sony (NYSE:SNE) Bravia TVs, with Quantum Dots from QD Vision, and in the Amazon Kindle Fire HDX 7, with Quantum Dots from Nanosys."
As explained by nanotechnology company Nanosys, so-called "quantum dots" are tiny "nanoscrystal phosphors" that "can actually convert light to nearly any color in the visible spectrum" by changing their size. When pumped with a blue light source, quantum dots are very efficient at producing highly saturated primary colors. According to Nanosys, quantum dot technology makes displays "that are brighter, more efficient, and produce truly vibrant colors."
DisplayMate also praised Samsung and LG for their revolutionary curved screen displays. According to Dr. Soneira, curved displays are "not simply marketing gimmicks as has been widely reported." He noted that curved displays help to eliminate ambient light source reflections which improves overall power efficiency by allowing displays to run at a lower brightness. Apple rival Samsung recently released the Galaxy Round smartphone that features a curved OLED (organic light-emitting diode) display.
However, there are several indications that Apple will soon retake the display tech lead. A recently published patent titled, "Quantum Dot-Enhanced Display Having Dichroic Filter," suggests that Apple may soon debut a display that features this cutting-edge technology. More recently, an unnamed insider source cited by the New York Times predicted that Apple's long-rumored iWatch will feature a curved glass screen. Here's how Apple traded on Friday.
Follow Nathanael on Twitter (@ArnoldEtan_WSCS)
More From Wall St. Cheat Sheet: