Do These iOS 7 Bugs Make Your iPhone Vulnerable?
As any developer knows, no matter how carefully new software is vetted through beta testing and other methods, some pesky bugs will always still slip through the cracks. Two recently discovered bugs in Apple's (NASDAQ:AAPL) latest mobile operating system reveal that iOS 7 is no exception to this rule.
As first reported by Andy Greenberg at Forbes, Apple researcher Jose Rodriguez found a security flaw in iOS 7 that allowed him to bypass the lockscreen on an iPhone and an iPad. First, Rodriguez accessed the device's Control Center via the lockscreen. This allowed him to open the alarm clock.
After holding the sleep button, Rodriguez cancelled the operation and double clicked the home button. This gave him access to the iPhone's multitasking menu, which granted him full access to e-mail accounts and photos. Fortunately, it appears that users can prevent this hack by deactivating Control Center access via the lockscreen in the iPhone's Settings menu. According to Forbes, Apple is working on delivering a fix via a "future software update."
Unfortunately, another bug discovered by Karam Daoud doesn't appear to have a quick-fix solution, noted Greenberg at Forbes. This hack exploits a glitch in iOS 7's emergency calling function. Like many other smartphones, Apple's iPhone allows users to call emergency services even when the device is locked.
However, Daoud was able to dial non-emergency numbers through this function by rapidly tapping the call button. After the Apple logo appears on the screen, the device allows a user to dial any number. According to Forbes, Apple has been made aware of this security issue and is currently developing a software patch. Here's how Apple traded on Friday.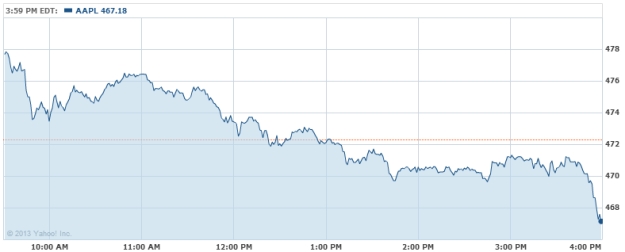 Follow Nathanael on Twitter (@ArnoldEtan_WSCS)
Don't Miss: NY Attorney General to iPhone Owners: Download iOS 7.