Doctors Prefer Apple over Android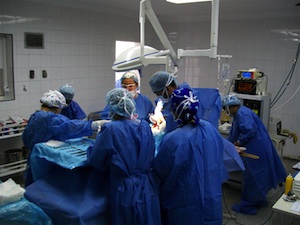 Will Apple (NASDAQ:AAPL) soon become a major player in the healthcare industry? A recent survey conducted by Black Book Rankings, a healthcare market research firm, discovered that doctors prefer Apple's iOS-powered devices over similar Android-based devices.
According to the study via Electronista, 59 percent of doctors already use tablets in their daily work, and the majority of those doctors prefer the iPad over other tablets. Similarly, 68 percent of doctors choose Apple's iPhone over comparable smartphones that use Google's (NASDAQ:GOOG) Android operating system.
Smartphones have been widely adopted by physicians, with 89 percent saying that they use a smartphone at work. Although most doctors use them primarily for communicating with staff, some also use the devices for accessing medical records, despite the smaller screen sizes.
The Affordable Healthcare Act will soon require healthcare providers to transition paper medical records to computer-based electronic health records, or EHRs. Besides saving billions of dollars in annual healthcare costs, this system will also allow physicians and nurses to instantly access and update a patient's records on the go.
Currently the biggest obstacle to widespread adoption of tablets in the healthcare industry seems to be the lack of necessary applications. Eighty-three percent of doctors surveyed say they are planning to increase their usage of mobile devices for accessing EHRs and writing prescriptions as the necessary apps come to market.
Although many doctors already use mobile devices to access EHRs, 71 percent stated that the apps need to be more "touchscreen friendly." Many of the current EHR tablet apps merely replicate a paper-based copy of the medical record, rather than creating an interactive version.
However, application vendors are working on correcting this issue. The study notes that 122 vendors state they are currently working on iPad versions of their EHR apps, while 135 vendors have plans to create EHR apps optimized for the iPad.
As Apple seeks to grow its presence in the overall business and enterprise world, the popularity of its mobile devices in the healthcare industry could signal an even greater potential source of future revenue for the Cupertino-based tech company.
Apple closed down 0.41 percent, or $1.85, at $449.73 on Friday. Here's how Apple has traded over the past week.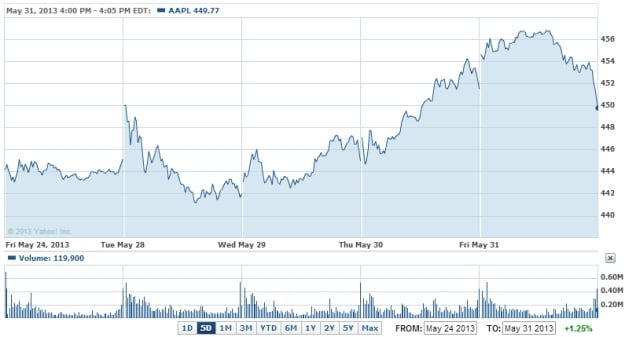 Follow Nathanael on Twitter (@ArnoldEtan_WSCS)
Don't Miss: Analyst: Apple Investors Could See a June Bounce.