Does Apple Really Need Help Selling iPhones?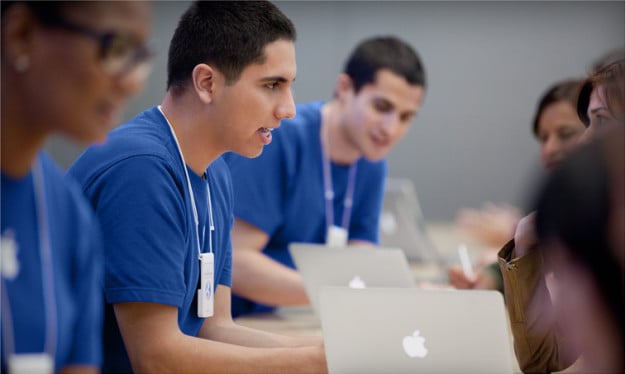 In what may be one of its humblest moves, Apple (NASDAQ:AAPL) is requesting help. It's not asking for just any help and not from just anyone, though, but rather for help invigorating sales and the iPhone — and it's asking workers near the bottom of its corporate totem pole.
Apple has sounded something of a call to arms for employees at its retail stores — specifically, those employees below the management level. This isn't the first time Apple has turned to its retail employees for help, as the company sought improvement suggestions for Apple Maps in this manner.
In a post titled "Career Experience: We want your ideas, Winning on iPhone team, Cupertino," Apple said it is looking for people who have ideas about the iPhone — either for improving it or selling it — from "candidates with the most innovative and relevant ideas."
Hearing what folks on the retail end have to say might turn out to be pretty useful for the company, as employees out on the sales floor have a very different experience with marketing the iPhone compared to designers and executives in Cupertino. The insights from these employees may help Apple tweak the iPhone brand to become even more popular.
Of course, this call for help could be construed as a cry for help resulting from desperation. Taken in this manner, investors could find cause for concern. The only thing that is clear from this posting is that Apple wants to improve the image and sales of its iPhone.
It's uncertain just how much effect rebranding on the sales floor could have, as many iPhones are bought elsewhere, like at mobile carrier stores or online. However, ideas for improving the iPhone's image could take form on all levels to increase sales through all avenues.
Perhaps one of the most interesting details of the post has to do with dates.
Many are curious about the launch dates for Apple's next barrage of products. Analysts had been expecting Apple's iPhone 5S to come out sometime this summer, but an earnings call from Apple pushed those expectations back to the fall.
Now, Apple's posting has hinted at a launch around the end of September or beginning of October. Apple plans to take successful candidates to Cupertino for eight weeks starting in August. Their work will be related to the iPhone and could be directly related to promoting the launch of the iPhone 5S. Given that the program would end near the end of September, it's possible the phone could launch close to that time. This could also relate to the anticipated low-cost iPhone.
Don't Miss: Here's the Full Guide to Apple's Irish Tax Haven.
Follow Mark on Twitter @WallStMarkSheet