Does Apple's New A7 Chip Indicate a Supplier Switch?

Has Apple (NASDAQ:AAPL) accelerated its plans to switch to a new primary chip provider? According to Apple Insider's Daniel Eran Dilger, Taiwan Semiconductor Manufacturing Company (NYSE:TSM) may already be building Apple's cutting-edge 64-bit A7 chips and could replace Samsung (SSNLF.PK) as Apple's main chip supplier.
Apple surprised many industry watchers when it unveiled the iPhone 5S as the world's first 64-bit smartphone. As noted by Apple executive Phil Schiller at this week's media event, "This means that graphics-intense applications can bring their console and desktop-level performance to the iPhone 5S," reports CNET.
According to the Wall Street Journal, Apple signed a deal in June with TSMC for the company to begin making some of its iPhone and iPad chips in 2014. However, the report also noted that Samsung would remain Apple's "primary supplier through next year." The Korea-based company currently makes Apple's A6 chips at its fab in Austin, Texas.
However, Apple Insider notes that Apple's 64-bit A7 chip appeared to surprise Samsung as much as it did the industry watchers who thought that the advanced chip would not be ready in time for the iPhone 5S launch. Obviously, Samsung's ignorance about Apple's latest chip design suggests that the Cupertino-based company partnered with another manufacturer to produce the A7 chip.
Soon after Apple's media event, a Samsung executive suggested that the company's future devices would also come equipped with 64-bit chips although he offered no timetable. "Not in the shortest time. But yes, our next smartphones will have 64-bit processing functionality," said Samsung mobile business chief Shin Jong-kyun via the Korea Times. As pointed out by Apple Insider, Samsung's hasty and vague response to Apple's latest mobile device advancement seems to suggest that the Korea-based company was caught off guard by this new technology.
Finally, according to a research note from Piper Jaffray analyst Jagadish Iyer earlier this year, Apple may be helping to finance the construction of a TSMC chip fabrication plant in upstate New York, reports Apple Insider. This would give Apple a steady source of chips from a company that – unlike Samsung – isn't a direct competitor in the smartphone market.
Here's how Apple closed out the trading week.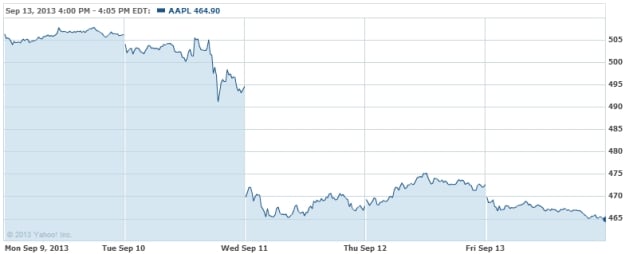 Follow Nathanael on Twitter (@ArnoldEtan_WSCS)
Don't Miss: 4 Cool Apple Announcements You May Have Missed.