The success of Amazon (NASDAQ:AMZN) does not go unnoticed.  The multinational electronic commerce company is the world's largest online retailer.  It was founded by Jeff Bezos in 1994, and went online in 1995.  Amazon sells everything from books and apparel to electronics and furniture.  In an effort to challenge Apple (NASDAQ:AAPL) and Barnes & Noble (NYSE:BKS), Amazon recently released a new line up of Kindles.  However, a new challenge may be coming Amazon's way.
Reports are indicating that Google Inc. (NASDAQ:GOOG) is currently in negotiation with major retailers and shippers to create a service that allows consumers to purchase goods on the Web, and receive orders within a one day for a fee.  The plan appears to parallel Amazon's Prime service.  Amazon Prime is a membership program that gives shoppers unlimited fast shipping, such as free two-day shipping and one-day shipping for $3.99 per item on all eligible purchases, for an annual membership fee of $79.  Members are also allowed to stream free video content through Amazon Instant Video, Amazon's answer to Netflix (NASDAQ:NFLX) and Hulu (NASDAQ:CMCSA).
Investor Insights: Will the iPad 3 Be the Next Catalyst for Apple's Stock?
The WSJ reports, "The success of Amazon Prime has encouraged some consumers to search for products directly on Amazon, rather than on Google and has posed an additional threat to traditional retailers whose online offerings—and shipping times—often pale in comparison.  Numerous retailers have expressed interest in signing on to the Google initiative, the people familiar with the matter said. Google has pitched the project to retailers with whom it struck recent partnerships in other areas, a group that includes Macy's Inc. (NYSE:M), Gap Inc. (NYSE:GPS), and OfficeMax Inc. (NYSE:OMX), these people said."  Many of the retailers declined to comment, but Macy's admitted to be contacted by Google.  "They've approached us with the idea, but we haven't made any decisions," explained a Macy's spokesman.
Under the plan, Google would combine its existing product-search feature with a new quick-shipping service.  The quick-shipping service would then enable shoppers to find which stores have their desired product in stock, and how quickly they could receive it.  Google would not sell items directly to shoppers, but would oversee the operation.  Speculation is arising the Google could even partner with United Parcel Service, Inc. (NYSE:UPS) or FedEx Corporation (NYSE:FDX) in order to enhance shipping times.
People familiar with the plan say Google will run a pilot test in San Francisco, and hopefully launch the full service sometime next year.  Google's move into Amazon's bubble could provide a huge catalyst for its stock price.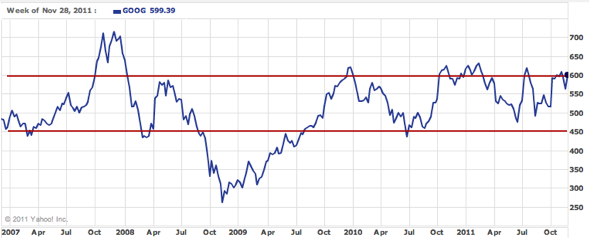 As long time Wall St. Cheat Sheet readers know, a 'Catalyst for a Stock's Movement' is the 'C' in our CHEAT SHEET investing framework.  The chart above shows why buy and hold investors may be disappointed with Google shares over the past few years.
Looking back to 2007, Google has mostly traded in a range between $450 and $600.  However, Thursday's announcement to challenge Amazon helped shares climb 2.4% higher, and close at $613.77.  Jason Helfstein from Oppenheimer & Co. also reiterated his $725 price target on Google, and expects 20% earnings growth in the fourth quarter.