Does iOS 7 Make Apple an Innovator Again?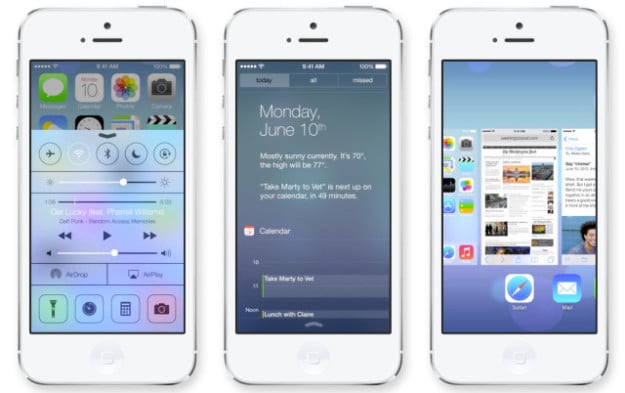 How should Apple (NASDAQ:AAPL) respond to the maturing smartphone market? UBS analyst Steve Milunovich notes that the worldwide smartphone market is nearing saturation and that most of the growth is now in the low-end market.
"Globally, we estimate smartphones reached more than 50 percent of total shipments in 4Q/12. Our affordability work using household income distribution shows an upper limit of high-end penetration of about 60 percent in developed markets and 25 percent globally. Replacement sales were about 65 percent of total sales in the US in 2012, another sign of maturity," wrote Milunovich via Barron's.
With almost nowhere to go but "down," many analysts believe that "the obvious answer is to head to lower price points." However, as a manufacturer of high-end devices, Apple runs a risk of diluting its premium brand image in pursuit of "short-term gain." Milunovich suggests that one possible solution to this dilemma would be for Apple to set up a separate lower-tier brand that would allow the company to sell low-end devices without impacting the primary Apple brand.
Although Apple is expected to unveil a so-called "low-cost iPhone" in the upcoming months, Milunovich notes that this device "probably won't be priced below $350-400." This means that the low-cost iPhone will actually be a mid-range price smartphone. Since the analyst expects that segment of the market to account for only 10 percent of sales in 2014, he doesn't believe the budget iPhone will significantly alter Apple's share of emerging markets like China.
Milunovich cites Clay Christensen's work, "The Innovator's Dilemma," which argues that, "As the technology improves and meets most user needs, more open, good enough approaches tend to do well as the basis of competition shifts to time-to-market." In other words, Apple is currently facing its stiffest competition from Android-based devices that do a competent job of emulating Apple's premium products.
So how can Apple differentiate its products in a market swamped with devices powered by an iOS knock-off? Milunovich thinks the answer may lie in Apple's new iOS 7. The analyst quotes Marco Ament, who noted, "Copying iOS 7 is going to be a big problem for cheap hardware." Although some high-end Android devices will be able to emulate an iOS 7-level of graphics and animation, most low-end Android devices will not.
Although Milunovich believes that Apple will still feel pressure from the many "good enough" devices on the market, the iOS 7 platform could become the differentiator that allows Apple to reclaim its "mantle of innovation." Milunovich reiterates a Buy rating and a $500 price target on Apple shares.
Here's how Apple has traded over the past five days.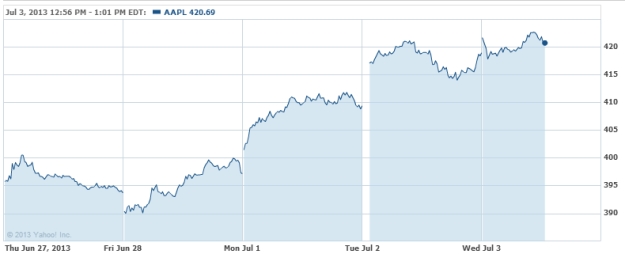 Follow Nathanael on Twitter (@ArnoldEtan_WSCS)
Don't Miss: Is Apple TV About to Get Even Better?