Does Microsoft Need Nokia Enough to Want Its Handset Unit?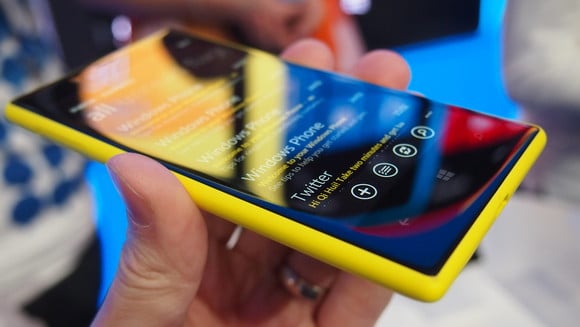 Microsoft (NASDAQ:MSFT) already designs the software that runs Nokia's (NYSE:NOK) smartphones, it would make some sense for the Windows Phone developer to purchase the entire handset division from the Finnish mobile phone manufacturer. Sources familiar with Microsoft's plans told The Wall Street Journal that the company has considered just such a move, explaining that it had recently held advanced talks with Nokia regarding a potential acquisition of its handset business.
However, the discussions hit a roadblock  when the subject of price came up; Nokia's slumping market position, which has fallen far behind the leaders in the fast-moving smartphone world. One source even commented that the talks would not likely be resumed because of that issue.
Neither company was willing to give further information about the discussions; all a spokeswoman for Nokia would tell the Journal is that the company has a "deep partnership with Microsoft, and it is not uncommon for Nokia and Microsoft to meet on a regular basis."
From the information relayed from the people with knowledge of those talks, it is not clear how much Nokia wanted for its handset division. Currently, Nokia's United States stock-market value is more than $14 billion, with more than half of the $40.15 billion it generated in revenue last year coming from its mobile-phone segment. Those statistics alone could make the Finnish company's handset business a proposition worth considering for Microsoft, especially since hardware and software suppliers increasingly see mobile devices — like smartphones and tablets — as fundamental to their futures.
Personal computers once dominated the technology sector, but now consumers spend more time using their mobile devices to watch videos, shop, and communicate with friends and family. The mobile revolution has forged winners, like Apple (NASDAQ:AAPL), and forced other market players to play catch up after having failing to adapt quickly enough to the changes. That second group includes PC-software pioneer Microsoft, and Nokia, which was a leader in early cellphone design. But Apple's introduction of the iPhone in 2007 and the iPad in 2010 shook up the technology world.
Nokia's problems were most accurately summarized two years ago by Stephen Elop, a former senior Microsoft executive who became Nokia's chief executive officer. In an internal memo, he likened the company to a man working on a burning oil platform in the middle of the North Sea, whose situation presented a Catch-22: he could either risk death on the "burning platform" or take a risky plunge into the freezing water, which could save him.
Elop chose to form a partnership with Microsoft, which was looking for an ally for its new smartphone software. Nokia picked Microsoft's mobile operating software over Google's (NASDAQ:GOOG) Android and Apple's iOS, a deal that made both companies deeply dependent on each other for their mobile future. Nokia agreed to only use Windows Phone to power its smartphones, while Microsoft pledged to spend billions of dollars on marketing and engineering assistance.
But, even though Windows Phone has surpassed BlackBerry (NASDAQ:BBRY) as the third-biggest smartphone operating system, its sales have continued to stagnate amid competition from Samsung (SSNLF.PK) and other Android-powered smartphones. In fact, research firm IDC said Windows Phone accounted for slightly more than 3 percent of all first-quarter smartphone shipments. Nokia exclusively uses Windows 8, and Nokia handsets represented 79 percent of all Windows 8 devices sold in the first quarter. That statistic shows that Microsoft needs Nokia to stay financially sound and partnered to Microsoft.
However, although Microsoft has put a new emphasis on homegrown hardware by launching the Surface Tablet, it is not clear why Microsoft would want to actually own Nokia's mobile phone business. As it stands, the company's partnership has made the Finnish company entirely reliant on Microsoft without requiring Microsoft Chief Executive Officer Steve Ballmer to buy Nokia.
 Follow Meghan on Twitter @MFoley_WSCS
Don't Miss: Apple's iPad Gets Educational in Los Angeles.