Does the New MacBook Air Have a Problem?

Owners of Apple's (NASDAQ:AAPL) newly released MacBook Air laptops are reporting a volume fluctuation issue during video playback. According to MacWorld UK via Apple Insider, some users are claiming that the volume will unexpectedly and randomly change while any video is played.
Other users note that the issue seems most pronounced when they attempt to set a mid-range volume. However, if they turn the volume very loud or very quiet, the volume seems to stabilize. The problem appears to manifest across multiple applications.
Users have reported the issue while playing videos in native applications such as Quicktime, as well as third-party apps like Google's (NASDAQ:GOOG) Chrome. Fortunately for Apple fans, it appears to be an easily fixable software glitch and a not a more serious hardware problem.
Multiple user posts have noted that Boom, a third-party volume enhancement app available at the App Store, seems to remedy the problem. This also seems to support the idea that the problem is rooted in a software issue that can easily be fixed with a software update from Apple.
Besides the recent volume control issue, MacBook Air owners have been reporting other problems related to the new 802.11ac Wi-Fi protocol capability. Some users have reported that the Wi-Fi speeds are not as fast as advertised.
Other users have reported that the Internet connection drops out after minutes of getting online. The Wi-Fi problem seems to be related to a software issue in OS X 10.8 Mountain Lion. According to Apple Insider, "Apple has yet to acknowledge the issue and it remains unresolved."
Here's how Apple closed out the week on Friday.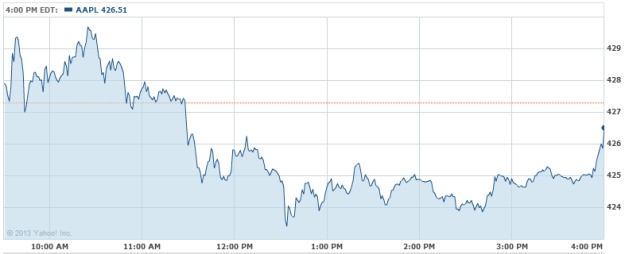 Follow Nathanael on Twitter (@ArnoldEtan_WSCS)