Does This Apple Patent Offer Yet Another iWatch Clue?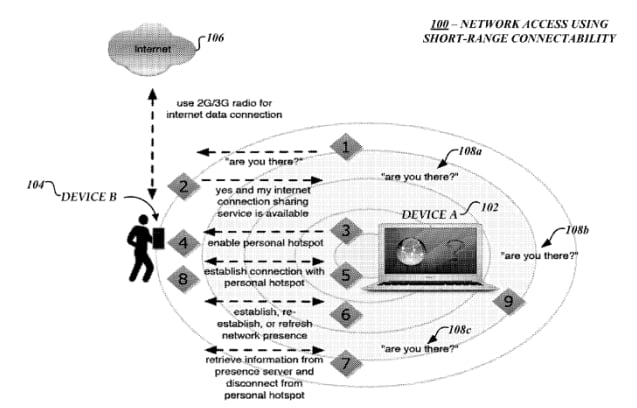 A recently published patent application from Apple (NASDAQ:AAPL) outlines a new type of low-energy wireless network technology that would be well-suited for a small wearable tech device such as an iWatch, reports Apple Insider. In the patent titled, "Network access using short-range connectability," Apple described a device that would use its "short-range connectability with another device" to gain access to a remote network.
Although the patent does not specifically mention a product called the iWatch, it referred to low-energy "devices without radios" that "can be paired with radio-enabled devices to automatically establish a brief intermittent connection with the network." The "devices without radios" may be an oblique reference to small wearable tech devices that would use a low-energy Bluetooth protocol in lieu of a typical radio transceiver that is used in most mobile devices.
Since an iWatch or other similarly small wearable tech device wouldn't have direct access to the network, it would need to piggyback on another "radio-enabled device." However, in order to conserve battery power, the patent noted that both devices would use a "low-power connection protocol that enables the first and second devices to remain in low-power mode during the short-range connection."
As noted in the patent, this low-energy protocol would allow one device to receive "push notifications and other messages or updates" while still remaining in a "low power mode." This is in line with the views of many industry watchers who believe that Apple's rumored iWatch will function as an accessory that is wirelessly tethered to the iPhone. On the other hand, the "low-power connection protocol" may be a reference to the Bluetooth Low Energy, or Bluetooth LE, variant that is well-suited for smaller devices that have limited power supplies. Previous iWatch rumors have suggested that Bluetooth LE could be utilized in Apple's wearable tech device.
It should also be noted that a previously leaked document from the Bluetooth Special Interest Group outlined various biometric applications for Bluetooth LE. The biometric capabilities of a Bluetooth LE-enabled iWatch would align with information supplied by 9to5Mac's insider sources. According to those sources, Apple has assembled an iWatch development team that includes medical sensor specialists as well as health and fitness experts. More recently, a report from Korea's ETNews suggested that Apple is planning on using a flexible OLED (organic light-emitting diode) display for its upcoming iWatch product. Although Apple has yet to tip its hand about an upcoming wearable tech device, Tim Cook has repeatedly hinted that new product lines would be unveiled in 2014.
"We continue to be very confident in Apple's future and we see significant opportunities ahead of us and both current product categories and new ones," said Cook during Apple's fiscal fourth-quarter results conference call. The recently published "Network access using short-range connectability" patent application may be the latest clue that Apple has already laid the foundation for a future wearable tech product line.
Follow Nathanael on Twitter (@ArnoldEtan_WSCS)
Don't Miss: Pebble Vies for Apple's Core With Pointed Smartwatch Update.