Does This Leak Reveal the Size of the iPad 5?

It turns out the iPhone 5S is not the only upcoming Apple (NASDAQ:AAPL) product that is susceptible to leaks. Only one day after posting purported pictures of the iPhone 5S battery, the French website nowhereelse.fr has posted what appear to be schematics for the next-generation iPad.
The website notes that the "iPad 5 should be less bulky than the current iPad 4 or iPad Retina" and appears to feature a "design modeled on that of the iPad mini." Based on these leaked schematics, the website estimates that the iPad 5 will be about 9.1 inches long and 7 inches wide.
The current iteration of iPad is 9.5 inches long and 7.3 inches wide. According to nowhereelse.fr, the schematics indicate that the iPad 5 casing is about 0.31 inches thick, but it is not clear if this measurement includes the thickness of the screen. The current iPad 4 is 0.37 inches thick.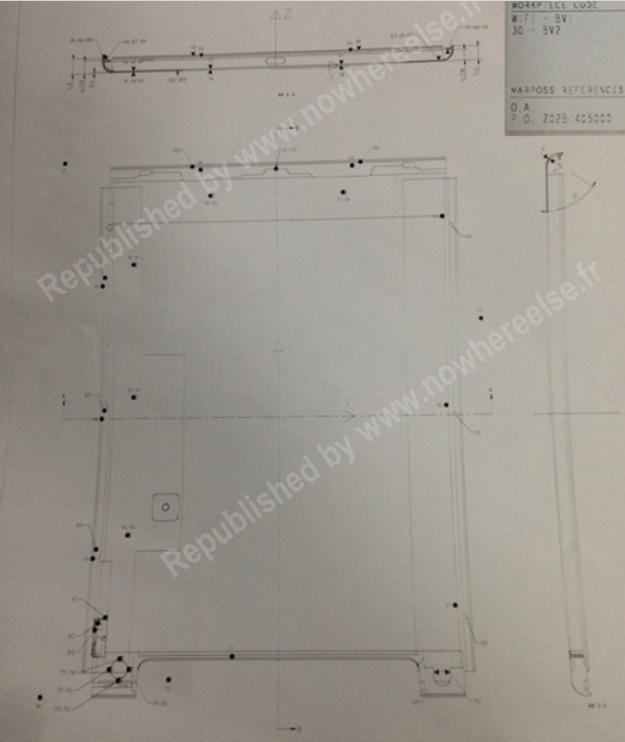 Besides being smaller and thinner, the iPad 5 also appears to have a slightly different style of curved back casing than the iPad 4. In this sense, the side profile of the iPad 5 seems to be more similar to the iPad mini than it is to the iPad 4.
The images were reportedly obtained from a worker at an unnamed Apple subcontractor. The source for the schematics also revealed that the iPad 5 will launch "between mid-September and the end of October." Here's how Apple traded over the past week.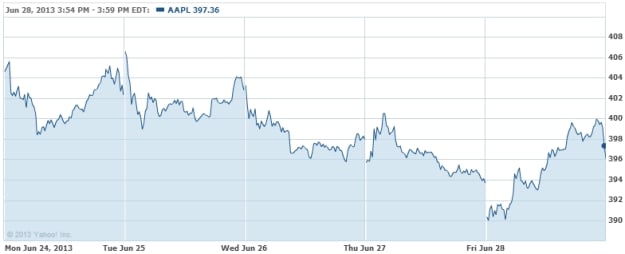 Follow Nathanael on Twitter (@ArnoldEtan_WSCS)
Don't Miss: Is This the iPhone 5S Battery?