Don't Worry Apple Fans, An iPad Air Did Not Explode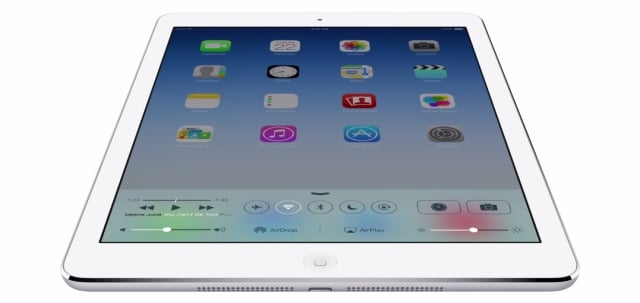 Owners of Apple's (NASDAQ:AAPL) latest tablet can relax a little. Last week, the widely publicized reports of an iPad Air exploding at a Vodafone (NASDAQ:VOD) store in Canberra, Australia had some industry watchers speculating that the explosion might be related to the new tablet's smaller form factor. According to Apple, the iPad Air is "20 percent thinner and 28 percent lighter than the fourth generation iPad." However, it now appears that the iPad in the explosion incident was actually an older model.
"It was an earlier generation iPad with Retina display model — not one of the more recently launched devices," said a Vodafone Australia spokesperson contacted by Mashable. "Apple is investigating the cause," added the spokesperson.
Although a malfunctioning product is never good news for any company, the fact that it was not an iPad Air should come as a relief for Apple and the owners of Apple's newest flagship tablet. However, it is unlikely to ease the minds of people who own one of Apple's older-generation iPads. According to Mashable, another Vodafone Australia spokesperson stated that, "Can confirm it was not an Air; all I know it was a Retina model, so a 3 or 4. Apple has taken the device for investigation, so we won't know any more until they do."
According to UK's Daily Mail, a Vodafone Australia spokesperson saw a "burst of flames" appear on the charging port of a demonstration model iPad last week. While no one was injured, the fire department was called to extinguish the burning device.
Although this appears to be the first incident of an iPad explosion, there have been previous incidents of iPhones overheating and catching fire in a similar fashion. Two years ago, an iPhone 4 caught fire on an Australian flight. More recently, a report emerged from China earlier this year about a 23-year-old woman who was fatally electrocuted while using her iPhone 4 when it was still attached to the charger. However, it was later revealed that she was likely using an unsafe knockoff charger.
Although Apple has yet to issue a statement about the latest incident, the company reportedly sent a representative to collect the device in order to determine the cause of the fire. Here's how Apple has traded over the past week.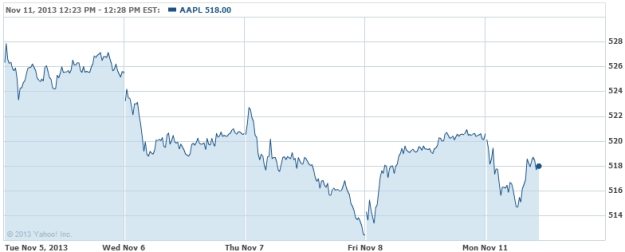 Follow Nathanael on Twitter (@ArnoldEtan_WSCS)
Don't Miss: Here's Why Apple Is Big in Japan.