Down Under Apple Store Plans Are Up Again

Apple (NASDAQ:AAPL) has rebooted its plans for a new retail location in Brisbane, Australia, after over three years of planning and construction, reports ifoAppleStore. The Apple Store will be located in the historic MacArthur Chambers building in downtown Brisbane. According to ifoAppleStore's sources, the store could be open as soon as October.
Apple's plans for this store first came to light in April of 2011, when the Cupertino-based company submitted a development application to the Brisbane City Council. The application included plans to incorporate the historic elements of the MacArthur Chambers building into an 18,000 square-foot retail space spread over ground and mezzanine levels.
However, last November, Apple abruptly decided to cancel the project in the first known "post-construction Apple store abandonment to become public, and the first high-profile store cancellation ever," reports ifoAppleStore. No reason was ever discovered for the project's cancellation, although it should be noted that the project was delayed after the main contractor declared bankruptcy in February 2012.
Approximately six months after the project was abandoned, Apple was ordered by an Australian court to finish renovating the retail space inside the MacArthur Chambers building so the property could be leased to another tenant.  However, newly submitted architectural drawings that outline a few minor changes to Apple's original plans indicate that the project is back on track. Apple also submitted a landscape plan that shows a cleaned up streetscape with two symmetrically aligned trees.
Apple Stores are the most successful retail stores in the U.S. based on sales per square foot, according to analyst Horace Dediu at Asymco. During Apple's third quarter earnings call, CFO Peter Oppenheimer pointed out the growth of Apple's retail stores in other countries by noting that Apple now has 156 Apple Stores located outside of the U.S.
Here's how Apple has traded over the past week.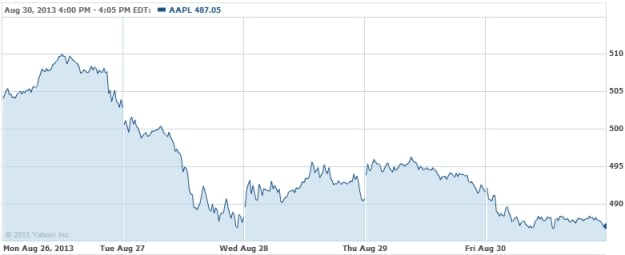 Follow Nathanael on Twitter (@ArnoldEtan_WSCS)