E-Book Trial: Apple Counters Jobs's Email With Jobs's Email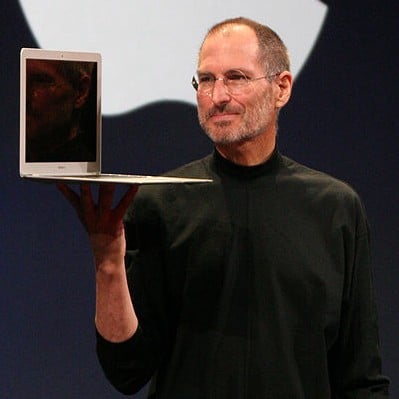 On Wednesday, the U.S. Department of Justice revealed what appeared to be an especially strong piece of supporting evidence for its antitrust case against Apple (NASDAQ:AAPL). The evidence was an email response from Steve Jobs to Eddy Cue regarding a potential increase in the price caps granted to publishers.
Government lawyer Dan McCuaig revealed the existence of the email while he was questioning Keith Moerer, the head of Apple's iBookstore. In the email, Jobs wrote, "I can live with this, as long as they move Amazon (NASDAQ:AMZN) to the agent model too for new releases for the first year. If they don't, I'm not sure we can be competitive…" The government contends that this email is proof that Jobs was trying to force Amazon into adopting the agency model, which led to higher overall e-book prices for consumers.
However, it turned out that this email was only a draft version that was never actually sent by Jobs. Now the Cupertino-based company has revealed Jobs's actual email response to Cue's query. Apple believes that the final draft of the email demonstrates that Jobs was not seeking to force Amazon to the agency model.
Via CNET, here is the email that Jobs actually sent, "I can live with this, as long as they also agree to the other thing you told me you can get: The retail price they will set for any book will be the LOWER of the applicable 'iTunes' price below OR the lowest wholesale price they offer the book at to anyone else, with our wholesale price being 70 percent of such price. For example, normally our retail price for a $26 book will be $12.99 and we will pay 70 percent of that, or $9.10. However, if they offer the same book to Amazon for a wholesale price of, say, $12.50, then our retail price for the same book shall be set at $12.50 and we will pay 70 percent of that price for the book."
The government contends that the various publishers were coordinating their price-fixing conspiracy by using Cue as a go-between. It alleges that Apple colluded with five other publishers in adopting an agency model that eventually forced Amazon to also adopt the agency model and raise its e-book prices.
The trial, which started on June 3 in the District Court for the Southern District of New York, is expected to last about three weeks. The case is U.S. v. Apple Inc., 12-02826.
Here's how Apple closed out the week.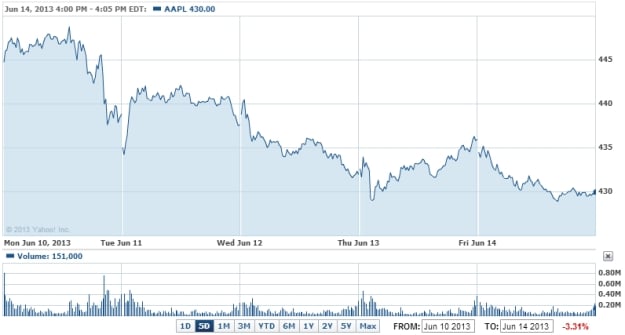 Follow Nathanael on Twitter (@ArnoldEtan_WSCS)
Don't Miss: E-Book Case: Will Eddy Cue's Defense Help Apple?