E-Book Trial Judge Gives Apple a Thumbs Down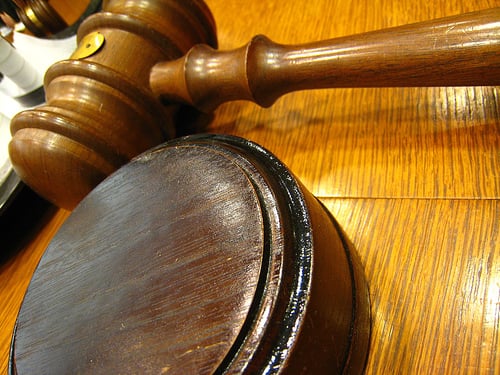 Apple (NASDAQ:AAPL) got a glimpse of what may lie ahead in the e-book price-fixing trial that it is currently preparing for, when the federal judge who is overseeing the trial took the unusual step of sharing her opinion on the merits of the Department of Justice's case. The DoJ alleges that Apple conspired with publishers to price-fix e-books, and is backing these charges up with Apple's own email records.
Via The Wall Street Journal, U.S. District Judge Denise Cote stated, "So, understanding that this is a tentative view, before I have the benefit of the testimony of the witnesses and further argument from counsel, I believe that the government will be able to show at trial direct evidence that Apple knowingly participated in and facilitated a conspiracy to raise prices of e-books, and that the circumstantial evidence in this case, including the terms of the agreements, will confirm that."
Even though the judge was careful to qualify her comments, it is still quite unusual for a judge to share her opinion on a case while it is still in the pretrial phase. This seems to indicate that the evidence against Apple that the judge has already reviewed is quite strong. Orin Snyder, one of Apple's lawyers, put a positive spin on the judge's statement, saying, "The court made clear that this was not a final ruling, and that the evidence at trial will determine the verdict."
Apple is the last remaining defendant in this case after five other publishers each settled with the government. Apple's former co-defendants include CBS's (NYSE:CBS) Simon & Schuster; Hachette Book Group, Inc .; News Corp.'s (NASDAQ:NWSA) HarperCollins; Pearson Plc's Penguin Group; and Verlagsgruppe Georg von Holtzbrinck GmbH and Holtzbrinck Publishers, LLC (doing business as Macmillan).
The DoJ alleges that the conspiracy started as a way to challenge Amazon's (NASDAQ:AMZN) dominance of the e-book market through its popular Kindle device and its strategy of selling newly released e-books for $9.99. Soon after Apple's alleged conspiracy took effect, some e-book prices increased to $12.99 and $14.99.
This week's hearing dealt with various pretrial issues such as how long the trial will run and what witnesses will be admitted. The trial is scheduled to begin June 3 in the District Court for the Southern District of New York.
Here's how Apple stock has traded so far this week.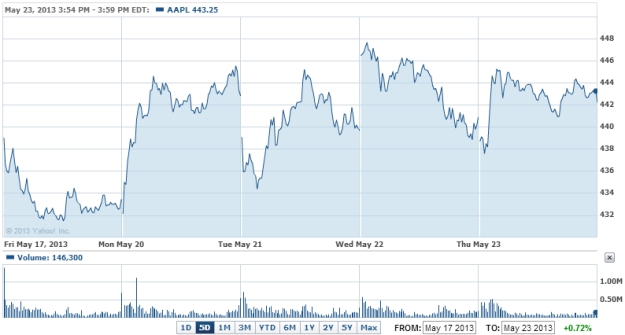 Follow Nathanael on Twitter (@ArnoldEtan_WSCS)
Don't Miss: Why is Doug Kass Changing His Tune on Apple?