Eddy Cue's Testimony Could Make or Break Apple in E-Book Trial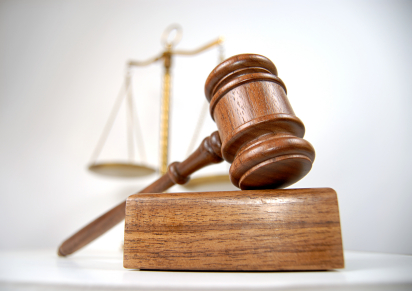 Apple's (NASDAQ:AAPL) ongoing e-book trial may reach a critical turning point today when Apple executive Eddy Cue takes the stand. Cue has been described by a U.S. Department of Justice lawyer as "the chief ringleader of the conspiracy" reports Bloomberg.
Although the negotiations with various publishers were initiated by Steve Jobs, Cue became responsible for the final negotiations after Jobs passed away in 2011. The government alleges that Cue conspired with publishers to fix e-book prices by orchestrating a simultaneous move to the agency model.
Under the agency model, publishers determine the price for e-books under a most favored nations clause that gives Apple a 30 percent cut of the selling price. This clause forbids them from selling e-books to other retailers below a set price limit. The government alleges that this subsequently forced Amazon (NASDAQ:AMZN) to raise its standard e-book price above $9.95.
The government maintains that the various publishers were coordinating their price-fixing conspiracy by using Cue as a go-between. Since Cue presented each publisher with term sheets that were almost identical, the government claims this is evidence of a price-fixing conspiracy.
The government is also likely to ask Cue about an unsent email from Jobs that was a response to an email from Cue about altering the pricing tiers for publishers under the agency model. In that e-mail Jobs wrote, "I can live with this, as long as they move Amazon to the agent model too for new releases for the first year. If they don't, I'm not sure we can be competitive…"
Apple argues that its deals with the publishers were reached via typical negotiations and that it was "indifferent" to the deals that those publishers had with other retailers such as Amazon. "The fact that Apple acted, in every respect that the government wants to cast a sinister light on, in its legitimate and lawful business interests is proof that Apple did not conspire in the first place," stated Orin Snyder, Apple's lead lawyer.
The trial, which started on June 3 in the District Court for the Southern District of New York, is expected to last about three weeks. The case is U.S. v. Apple Inc., 12-02826. Here's how Apple has traded so far this week.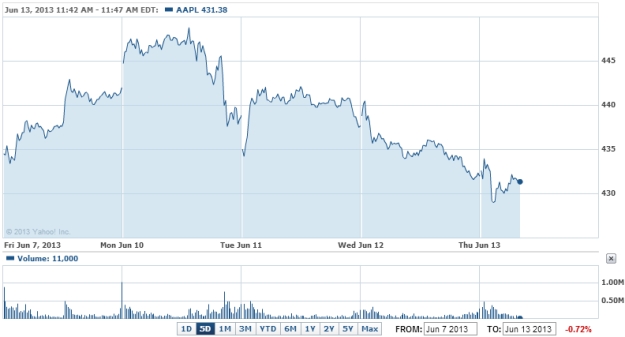 Follow Nathanael on Twitter (@ArnoldEtan_WSCS)
Don't Miss: Government to Apple: iBookstore Is a Failure.