Ex-CEO to Apple: Make a Big Acquisition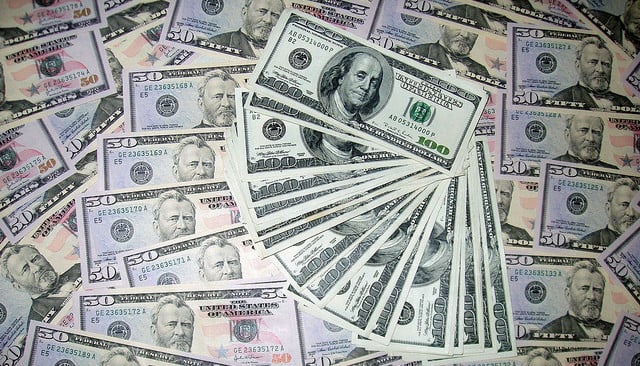 Is Apple (NASDAQ:AAPL) making a strategic mistake by not spending some of its cash hoard on a large company purchase? Former Apple CEO John Sculley believes Apple may be missing some important opportunities to expand the company's influence into various developing markets by holding on to its cash reserves. Sculley was the CEO of Apple from 1983 to 1993.
"Apple's about building great products, building and shaping markets," noted Sculley via The Daily Star. "Carl Icahn has suggested to Tim Cook, 'Why don't you buy more stock back or make a bigger dividend?' I'd rather see Apple continue to invest in building, even make big acquisitions that were strategic, as opposed to buying more stock back, or giving more dividends."
Billionaire investor Carl Icahn has recently been pushing Cook to fund a $150 billion buyback with funds borrowed at 3 percent. However, Sculley would prefer if Apple spent its money purchasing a company like eBay (NASDAQ:EBAY).
Sculley believes that if Apple bought eBay, it would shift "the whole landscape of e-commerce" and provide a challenge to Amazon's (NASDAQ:AMZN) dominance of this market. Although Apple rarely purchases large companies like eBay, it does occasionally buy smaller companies when it needs to acquire a specific technology for an existing product or service.
For example, Apple recently acquired personal assistant app Cue in order to bolster iOS 7's Notification Center. Earlier this year, Apple bought transit system app company Embark and location data company Locationary in order to improve Apple Maps.
Tim Cook briefly addressed the possibility of acquiring a large company when he spoke at an investor conference hosted by Goldman Sachs earlier this year. "We have looked at large companies. In each case, it didn't pass our test," said Cook via the Wall Street Journal. "Will we look at more, I think so. But we're disciplined and thoughtful, and we don't feel a pressure to go out and acquire revenue. We want to make great products. If a large company could help us, then that would be of interest. But again, deliberate, thoughtful, is our mantra."
Here's how Apple traded over the past five trading sessions.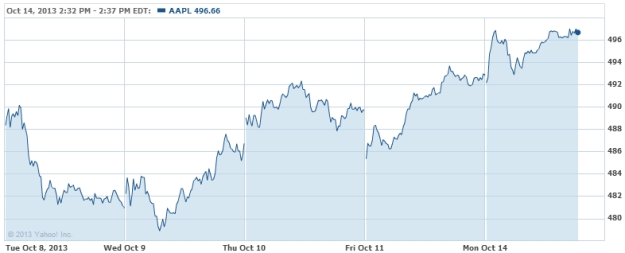 Follow Nathanael on Twitter (@ArnoldEtan_WSCS)
Don't Miss: Is China's Gold iPhone 5S Shortage Finally Over?