Exxon Moves For Arkansas Suit Dismissal and 2 Other Dow Movers to Watch
Exxon Mobil Corporation (NYSE:XOM): Current price $90.96
In Arkansas, attorneys for Exxon Mobil and Exxon Pipeline Co. have filed a motion requesting dismissal of a lawsuit brought by Mayflower residents concerning a recent oil spill. On the 29th of March, ExxonMobil Pipeline's Pegasus pipeline ruptured and spilled thousands of barrels of oil in the town, and forced the evacuation of some 20 homes. A lawsuit files by Kathryn Jane Roachell Chunn and Ellen Burgess asks for unspecified damages due to the diminished value to their property, as well as the nuisance.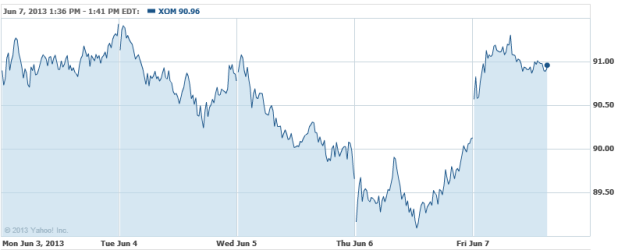 The Travelers Companies (NYSE:TRV): Current price $83.54
The South Carolina Bankers Association has endorsed Travelers by as a preferred provider of bank insurance products. Now, member banks have access via the Association to the Travelers SelectOne+ forCommunity Banks portfolio of products, among which include a comprehensive set of coverage on specialty lines, together with a full suite of property/casualty products. Travelers SelectOne+ for Community Banks flexible product line includes crime (financial institution bond), directors and officers liability, bankers professional liability and an array of e-business and property/casualty exposures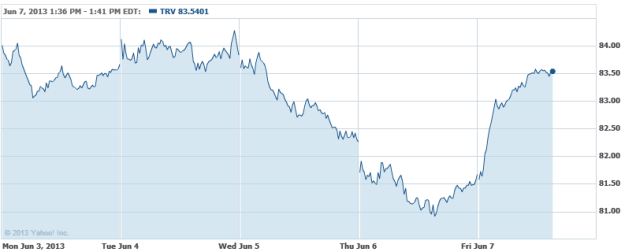 Verizon Communications (NYSE:VZ): Current price $49.93
On Friday, President Barack Obama strongly defended United States government programs which conduct surveillance of Americans' phone and Internet activity, insisting that they were performed with broad safeguards to protect against any abuse. On a visit to Silicon Valley, the President said, "Nobody is listening to your telephone calls. That's not what this program is about," insisting that the surveillance programs hit the correct balance between keeping Americans safe from terrorist attack and protecting their privacy. Late on Thursday, The Washington Post reported that federal authorities have been accessing the central servers of firms including Google, Apple, and Facebook so as to gain access to emails, photos, and other files, permitting analysts to track a person's movements and contacts. The program has been in place for several years, across two White House administrations.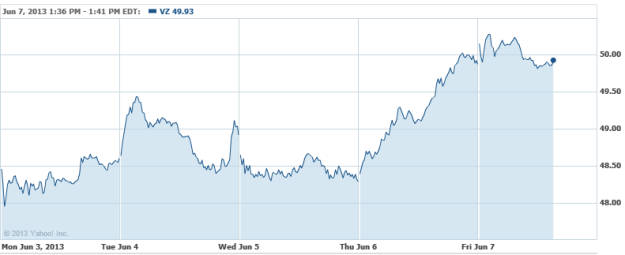 Don't Miss: Will Natural Gas Take Over the U.S. Economy?