Facebook Deal For Waze Pondered By Google and 2 Other Hot Stocks to Watch
Facebook (NASDAQ:FB): Current Price $24.53
Bloomberg News is reporting that Google (NASDAQ:GOOG) is looking at Facebook's possible acquisition of the Israeli mobile satellite navigation start-up Waze. Earlier in May came word that Facebook was in advanced discussions regarding an acquisition of Waze for as much as $1 billion as the social-networking giant continues to move its attention to the key mobile sector. In addition to that, earlier reports indicate that both Microsoft and Apple had also shown some interest in snapping up Waze in the past. After the Facebook talks story leaked, Waze was approached by Google and other unnamed large tech firms about a potential deal, said Bloomberg.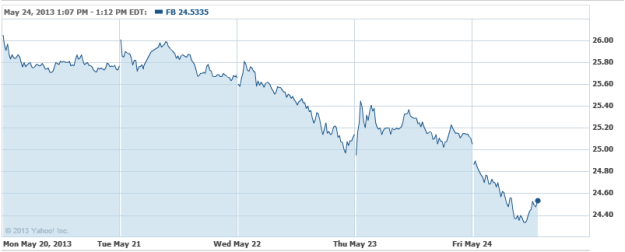 Microsoft Corporation (NASDAQ:MSFT): Current price $34.20
Microsoft is looking at used game sales, and for Xbox One games, the sales will be permitted but any retailer who decides to sell them will be required to use Microsoft's Azure-based cloud system in the process, reports MCV. This extra step will see to it that Microsoft and game publishers obtain a portion of the used game sale, as opposed to allowing the entire sale proceeds go to retailers. When a customer takes a used game to a retailer and exchanges it in for cash or credit, the retailer will then enter it into its Azure system. The retailer will determine the price, and the eventual sale is divided into three, with the split percentage set by Microsoft.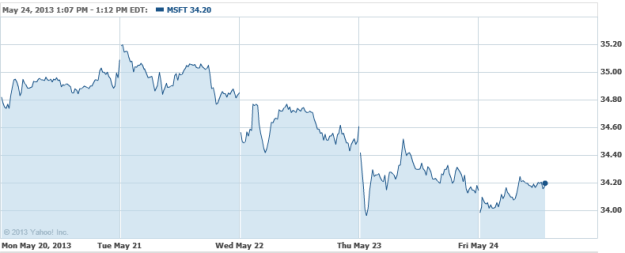 Intel Corporation (NASDAQ:INTC): Current price $23.80
On Thursday, the firm allowed a glimpse at Haswell, which is Intel's code name for the next change in its flagship chip line, and some of its benefits, especially in the area of lowered power consumption. Intel informed reporters that the new chip family pulls 50 percent less power than the current members of its Core processor line on "active" workloads, like viewing a movie or playing a videogame. Beyond that, the firm describes how Haswell does in an "idle" state, or"standby" mode, which is an area Intel that has historically lagged products based on designs from ARM Holdings, which dominate tablets and smartphones. Intel says that Haswell in idle mode offers two to three times the battery life of the current Core chips, and that its standby power consumption was described as 20 times lower than Intel's 2011 Core line, known as Sandy Bridge.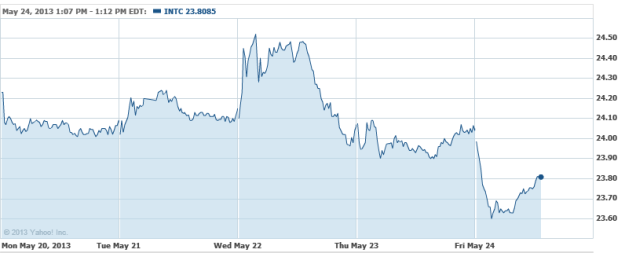 Don't Miss: Is This a Colorful Glimpse of the Low-Cost iPhone?