Facebook Deploys "It Takes Money to Make Money" Model
Since going public last year, Facebook (NASDAQ:FB) has received a great deal of criticism over its lacking presence in mobile. When the social media giant debuted on the Nasdaq in May, lackluster ad revenue from mobile devices drew red flags. Now, mobile is a growing accomplishment on Facebook's timeline, but expenses are on the rise.
After Wednesday's closing bell, the world's largest social media company released earnings for only the third time as a public company. Facebook posted a profit of $64 million (3 cents per share) in the fourth quarter, compared to $302 million (14 cents per share) a year earlier. Excluding share-based compensation and tax items, earnings came in at 17 cents per share, topping estimates by 2 cents.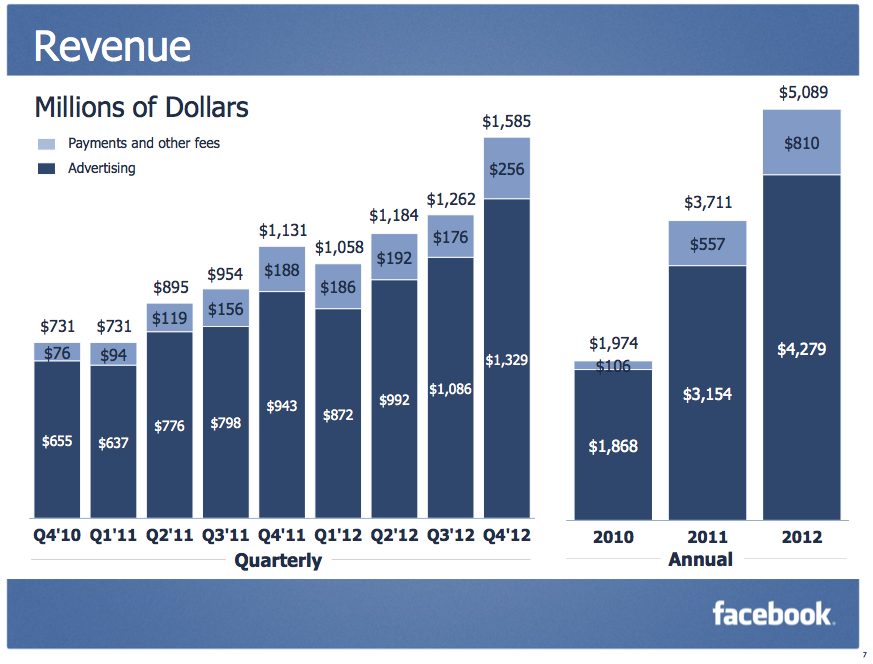 The bottom line was helped by a 40 percent jump in revenue to $1.585 billion, compared to $1.131 billion in the fourth quarter of 2011. The consensus on Wall Street was for $1.53 billion. Revenue from advertising surged 43 percent to $1.33 billion, representing 84 percent of total revenue. Revenue from payments and other fees amounted to $256 million.
Mobile revenue improves…
Thanks to improved apps on Google's (NASDAQ:GOOG) Android and Apple's (NASDAQ:AAPL) iOS, more people are using Facebook on mobile everyday than desktop. Mobile revenue in the fourth quarter represented 23 percent of total advertising revenue. At the beginning of 2012, Facebook had zero ads on mobile. The addition of ads in the News Feed also boosted mobile revenue.
On the conference call, Mark Zuckerberg, co-found and chief financial officer, explains, "We're coming out of a year with a strong foundation and lot of momentum. Just last week, comScore put out a report saying that Facebook is now 23 percent of all time spent on apps in the U.S. And one of the next biggest apps is Instagram at 3 percent. So put together we're now more than a quarter of the time spent in apps. Today there's no argument. Facebook is a mobile company."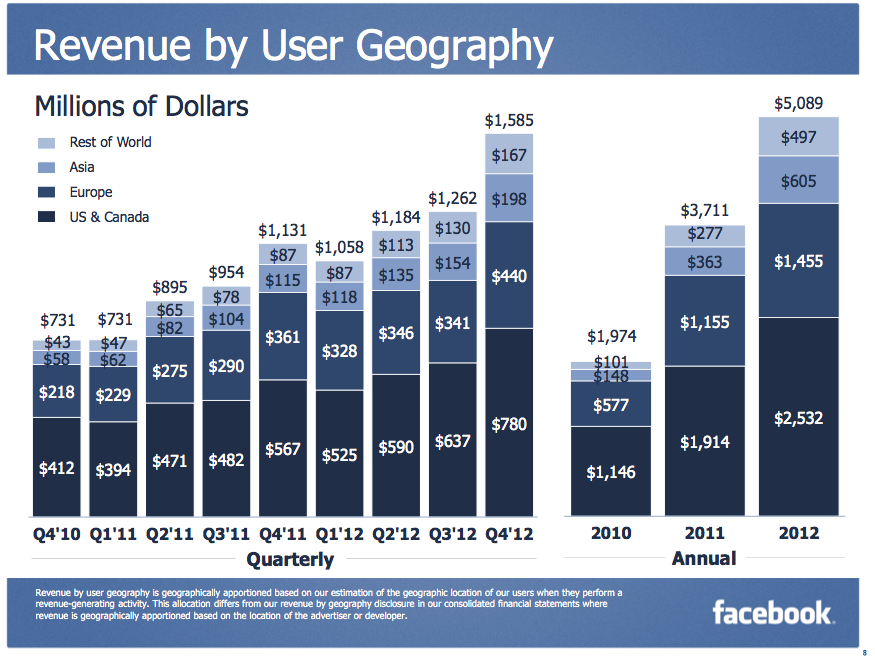 As the chart above shows, revenue has now increased for the past four quarters, with the United States and Canada leading the way with $780 million. Europe and Asia brought in $440 million and $198 million, respectively.
What about expenses…
Facebook is operating under the "it takes money to make money" model. The company's operating margin in the fourth quarter came in at 33 percent, down from 48 percent a year earlier. Excluding share-based compensation and related payroll tax expenses, operating margins were 46 percent, still down from 55 percent a year earlier, but the difference on the non-GAAP basis is smaller.
Fourth quarter costs and expenses totaled $1.06 billion, an 82 percent surge from the fourth quarter of 2011. Meanwhile, capital expenditures were $198 million. For the full-year ended December 31, 2012, costs and expenses totaled $4.55 billion, compared to $1.955 billion in 2011.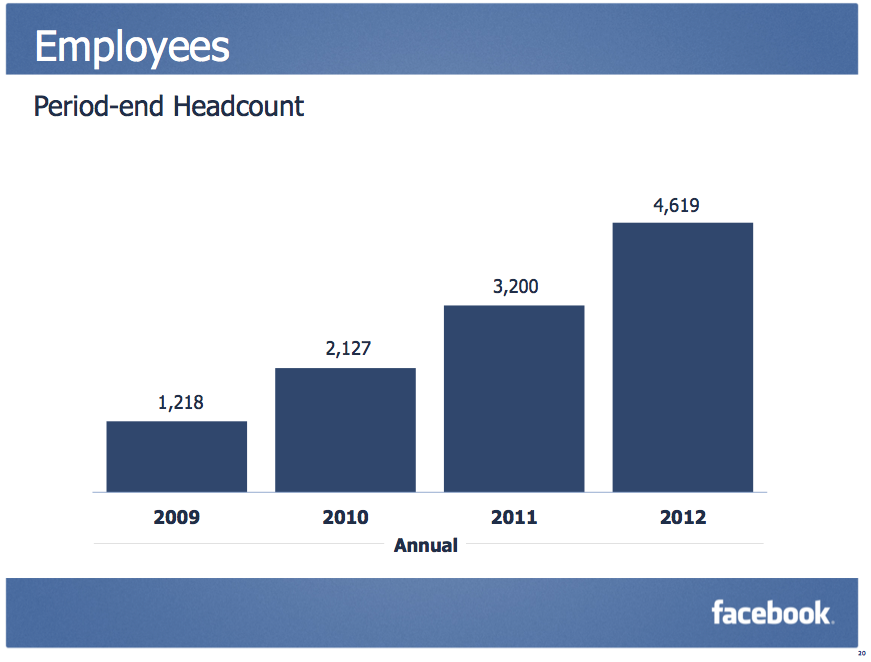 Looking forward, Facebook looks set to keep spending as it aims to plant seeds for tomorrow's businesses. Zuckerberg explains, "We made the decision to continue to grow our headcount quickly in 2013, particularly in product development. This will likely cause our expenses to grow at a faster rate than we expect to grow our revenue this year. This means that we aren't operating to maximize our profits this year. We're doing what we think will build the best service and business over the long term."
Due to hiring and investment plans, Facebook expects total expenses to grow in the neighborhood of 50 percent in 2013. The increased expenses may be weighing on the stock price, as shares fell more than 3 percent to as low as $28.74 on Thursday. Other social names such as LinkedIn (NYSE:LNKD) and Yelp (NYSE:YELP) bounded into green territory. Yelp shares took a hit earlier in January due to Facebook unveiling Graph Search, a social search tool that allows users to see what places their friends recommend, among other things. However, the new tool is still an early beta product.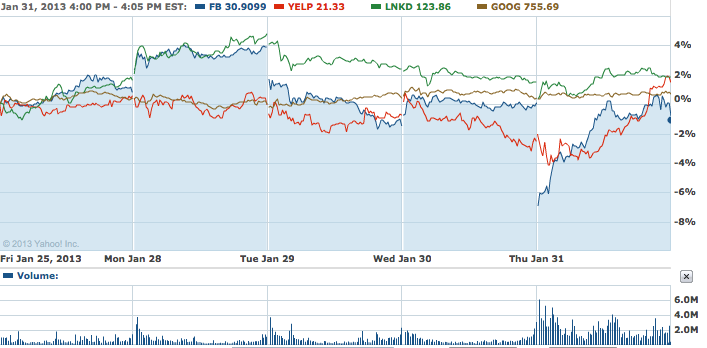 Don't Miss: Facebook: Still Expanding its Message Around the World