Facebook & Other Tech Firms Want NSA Restraint and 2 Other Hot Stocks to Watch
Facebook Inc. (NASDAQ:FB): Current price $50.49
Facebook is among several tech firms requesting lawmakers to restrain the National Security Agency, as they want to "counter erroneous reports" that they supply intelligence agencies direct access to their servers. On Thursday, the companies sent a joint letter to Senator Patrick Leahy (D-VT), who chairs the Senate Judiciary Committee, and three other lawmakers, saying in part that, "Our companies believe that government surveillance practices should also be reformed to include substantial enhancements to privacy protections and appropriate oversight and accountability mechanisms for those programs." The companies, including Apple Inc. (NASDAQ:AAPL), Microsoft Inc. (NASDAQ:MSFT), Google Inc. (NASDAQ:GOOG), Yahoo! Inc. (NASDAQ:YHOO), and AOL Inc. (NYSE:AOL) would also like to be able to publish statistics regarding how frequently they relinquish customer data in response to legal orders by the government.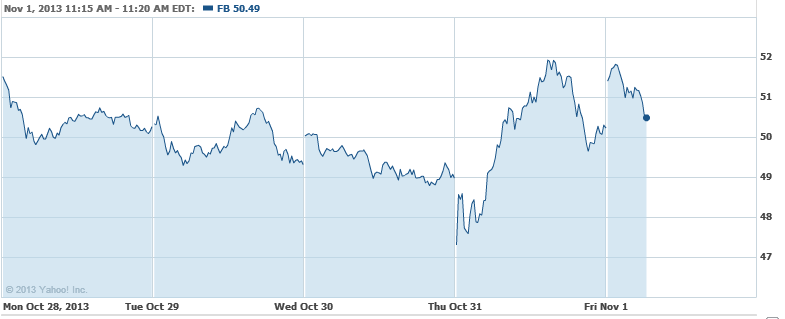 General Motors Co. (NYSE:GM): Current price $37.42
GM reports that unlike in September, its October domestic sales jumped by almost 16 percent while pickup trucks and many of its cars rebounded from the prior month. The auto maker says that it sold over 226,000 cars and trucks in October, which was up from about 196,000 in the same month of 2012. Sales of the Chevrolet Silverado pickup, GM's top-selling vehicle, increased by 10 percent and sales of the GMC Sierra pickup jumped 13 percent.

First Solar Inc. (NASDAQ:FSLR): Current price $58.12
Shares of solar-panel maker are up almost 17 percent on Friday in heavy volume, leading gainers in the S&P 500 Index after a third-quarter earnings beat late Thursday. First Solar posted a rise in profits and sales that exceeded Wall Street forecasts as it posted third-quarter earnings at $1.94 per share versus $1 year-over-year. Adjusted earnings came to $2.28 a share. Analysts had predicted earnings of 99 cents per share.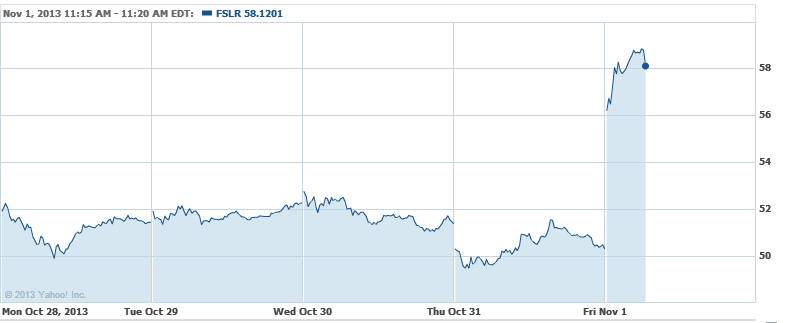 Investing Insights: Can Facebook Continue to Trend Higher?