Facebook: The Next E-Commerce Game Changer?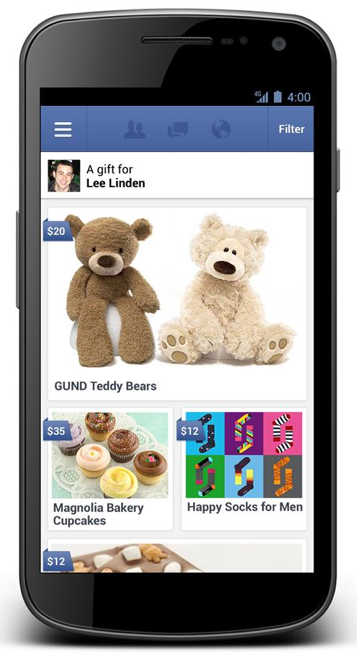 The holiday season is quickly approaching. From Halloween to New Year's Day, consumers will spend billions of dollars on gifts. While shopping is not a difficult task for many Americans, Facebook (NASDAQ:FB) is seeking to make the process a bit easier.
On Thursday, the social-media giant launched a new service called Gifts. As the name suggests, it enables users to buy, give and ship real gifts to friends directly through Facebook. Gifts can be given from the birthday reminders news feed, or from a person's timeline. The gift giving process can be completed on Facebook's website or on Android (NASDAQ:GOOG) mobile phones, with Apple (NASDAQ:AAPL) iPhone and iPad versions rolling out soon. The service is currently offered to only a small amount of users, but will expand in the United States over the coming months.
Catalysts are critical to discovering winning stocks. Check out our newest CHEAT SHEET stock picks now.
After clicking on a gift icon, buyers can choose from a variety of gifts such as GUND Teddy Bears or a Starbucks (NASDAQ:SBUX) gift card. The buyer can also post the gift on a friend's timeline or send it privately. The friend can then unwrap the gift for a preview, enter their shipping address and even choose any remaining details left on the gift. The company explains, "To make sure they love the gift, they can choose the color, size or flavor that they want, or even exchange it for something else of equal value. There are hundreds of gifts with more added everyday."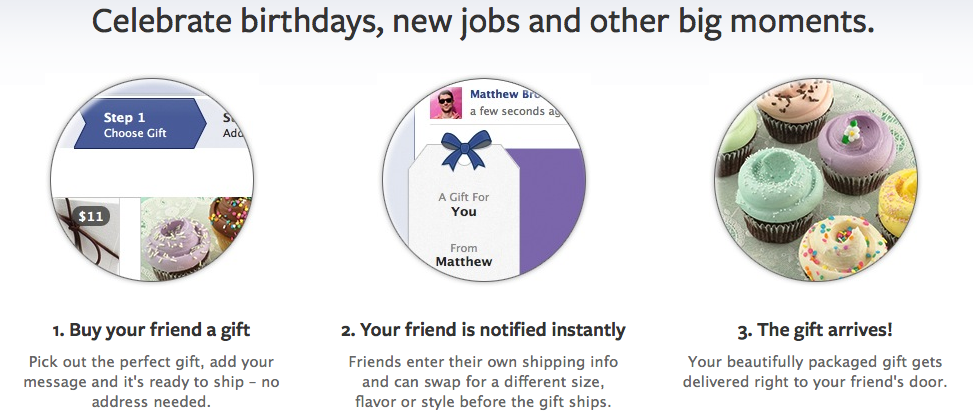 Facebook receives the majority of its revenue through advertising, but has been developing strategies to boost sales. Gifts was made possible through Facebook's acquisition of Karma in May. The 16-employee startup in San Francisco created a mobile app to let people send gifts to their friends on the go. "This is Karma reimagined within Facebook," said a Facebook representative, according to WSJ. "It's a natural extension of what people are doing on Facebook and it's the heart and soul of Karma at a much larger scale."
While it is still unknown how reliable the service will be or if Facebook will succeed in a market dominated by Amazon (NASDAQ:AMZN), the feature is very interesting and could be Facebook's first major step in generating a significant amount of additional revenue in the long-term.
Investor Insight: Here's What the Experts Say About Facebook's Stock