Failing at Smartphones, BlackBerry Is Going Private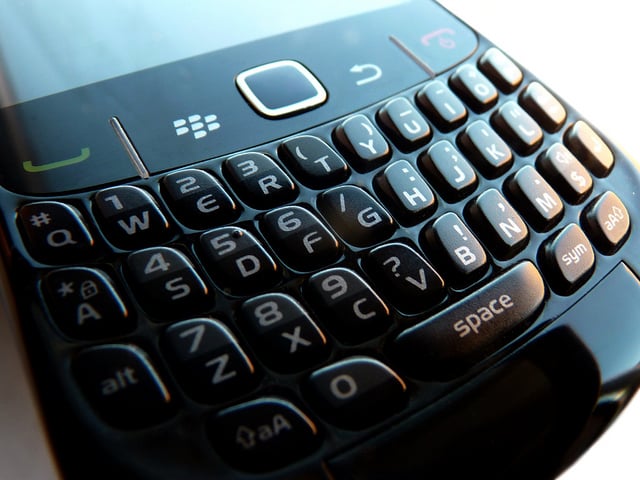 The maker of the once iconic BlackBerry (NASDAQ:BBRY) smartphone announced in an August press release that it would explore "strategic alternatives to enhance value and increase scale in order to accelerate BlackBerry 10 deployment."
The statement, released before the markets opened on August 12, explained that a special committee consider several options: joint ventures, partnerships, or even a sale of the company. Now, what has been rumored for months has finally transpired — BlackBerry is going private. The struggling smartphone maker announced Monday that it would be sold for $9 a share to a consortium led by Fairfax Financial Holdings, a deal that values the company at a total of approximately $4.7 billion. Fairfax is the company's largest shareholder, with a 10 percent stake.
In the past five years, shares of BlackBerry's stock have lost more than 91 percent of their value. Even though the stock has climbed about 15 percent over the past 12 months, it has dropped more than 26 percent this year through Friday's close. After the news of the buyout deal reached investors, shares jumped as much as 1.20 percent to $8.83.
"We believe this transaction will open an exciting new private chapter for BlackBerry, its customers, carriers, and employees. We can deliver immediate value to shareholders while we continue the execution of a long-term strategy in a private company with a focus on delivering superior and secure enterprise solutions to BlackBerry customers around the world," Fairfax's Chief Executive Officer Prem Watsa, said in a press release announcing the agreement. Watsa resigned from BlackBerry's board of directors in August to avoid being accused of a conflict of interest as he worked out an escape route for the company.
BlackBerry has struggled to compete in the difficult smartphone market. The company arguably invented the smartphone with its BlackBerry, and the device dominated the market for several years after its release in 2003. At the time, it offered users something novel in the email age — the ability to be liberated from a desktop computer. The BlackBerry spread like wildfire through the corporate world, and at its 2007 peak, the company formerly known as Research in Motion reached a market value of $70 billion.
But with the launch of more complex devices, like Apple's (NASDAQ:AAPL) iPhone and handsets run on Google's (NASDAQ:GOOG) Android, the BlackBerry's share of the worldwide smartphone market dropped from 20 percent in 2009 to just 5 percent last year. It was Apple's iPhone especially that transformed the smartphone from a corporate tool into a must-have consumer product.
The smartphone maker's decline is a familiar story, and so Monday's announcement is not all that surprising. What is surprising is that just a few months ago, all the company's actions indicated that it was committed to moving forward with its new platform, BlackBerry 10. But, from the company's decision to go private, it appears that Blackberry's last attempt to rebuild itself failed.
The company meant for BB10 and its two new devices — the touch screen Z10 and the Q10, with the mini keyboard favored by many traditional BlackBerry users — would help it carve out a new foothold in the smartphone market. The first quarter was meant to be BlackBerry's first opportunity to prove that it was making a comeback. However, the company's struggle to compete against Apple's iPhone and Samsung's (SSNLF.PK) Galaxy line of smartphones resulted in a loss of 13 cents per share on sales of $3.1 billion. When it reported first-quarter results, the company also forecast a loss for the current quarter, which caused shares to plummet.
That forecast was more than correct. On Friday, shares of BlackBerry were halted shortly before 3 p.m. EDT. The beleaguered smartphone maker apparently wanted to brace the markets for the preliminary release of its fiscal second-quarter financial results, which missed analyst expectations by a long shot. According to the preliminary report (real earnings will be reported September 27), revenues are expected to come in at $1.6 billion, well below the average analyst estimate of $3.06 billion. The company reported that approximately 5.9 million smartphones were sold through to end users, and that it will recognize revenues on about 3.7 million devices.
BlackBerry is expecting an adjusted net loss — before factoring in a $950 million pre-tax charge against inventory and supply commitments, primarily attributable to BlackBerry Z10 devices — in a range between $250 million and $265 million, or between 47 cents and 51 cents per diluted share, which compares against the average analyst estimate of a loss of 15 cents per share. Including the inventory charge, net loss is expected to fall in a range between $1.81 and $1.90 per share.
President and Chief Executive Officer Thorsten Heins commented on Friday that, "We are implementing the difficult, but necessary operational changes announced today to address our position in a maturing and more competitive industry, and to drive the company toward profitability.
"Going forward, we plan to refocus our offering on our end-to-end solution of hardware, software and services for enterprises and the productive, professional end user. This puts us squarely on target with the customers that helped build BlackBerry into the leading brand today for enterprise security, manageability and reliability."
The news was certainly grim, but it was not exactly unexpected. BlackBerry's lot of unsold inventory has been growing significantly since it started losing ground to market leaders. Even before BlackBerry quantified the damage, Bloomberg calculated that the size of its unsold inventory was approaching $1 billion.
With the agreement inked, BlackBerry will now conduct a go-shop process, which will give the special committee the "opportunity to determine if there are alternatives superior to the present proposal from the Fairfax consortium," said Barbara Stymiest, Chair of BlackBerry's Board of Directors, in the press release. The company's due diligence is expected to be complete by November 4, 2013.
Follow Meghan on Twitter @MFoley_WSCS
Don't Miss: Has Apple's Fingerprint Scanner Been Hacked?