Ford Partners With UAW to Lower Healthcare Costs and 2 More Heavily Traded Stocks to Follow
Ford Motor Company (NYSE:F): Current price $14.79
Working jointly with the United Auto Workers and a UAW-affiliated retiree healthcare trust, Ford is initiating a two-year pilot program meant to lower medical costs for the automaker's active and retired hourly workers. Between 1,200 and 1,500 unionized workers and retirees in southeastern Michigan having chronic but manageable illnesses are expected to join the pilot program. Under this program, Ford, the UAW and the trust expect to slash healthcare costs, instead of transferring the burden to others, by encouraging workers to treat and address health problems on a proactive basis.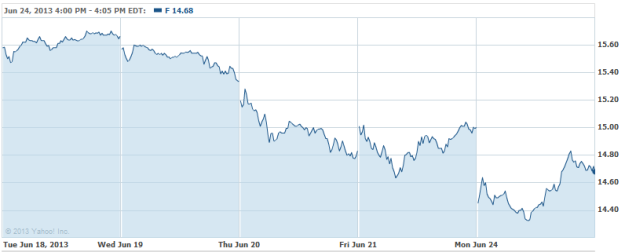 Barrick Gold Corporation (NYSE:ABX): Current price $16.57
Barrick will lay off around 30 percent of its Toronto-based corporate staff, and in other offices through a downsizing plan set off ed by problems at major mines and a fall in the price of gold. The corporation and its competitor gold miners like Newmont Mining and Newcrest Mining are shaking up operations, ceasing projects, sharply reducing exploration spending and slashing jobs, while the industry deals with high costs and weak metal prices. Barrick confirmed on Monday a Reuters report that the layoffs are on the way, and said the cuts formed part of an effort to "streamline the organization and manage costs in a challenging business environment".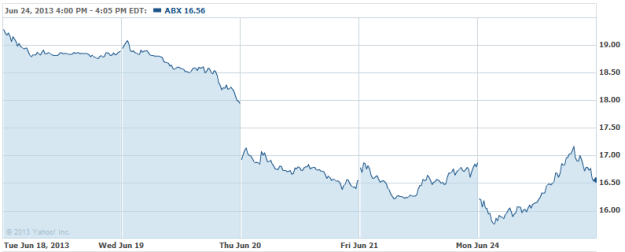 Apple (NASDAQ:AAPL): Current price $402.54
According to AllThingsD, parents of children who accumulated large iTunes App Store bills due to unauthorized in-app purchases will be compensated by Apple. This week, the firm began contacting members of a class-action lawsuit that claimed its in-app purchase policy did not prevent children from overspending on their parents' accounts. Through the terms, Apple will offer eligible class members a $5 iTunes gift card, an account credit, or, for claims exceeding $30, cash.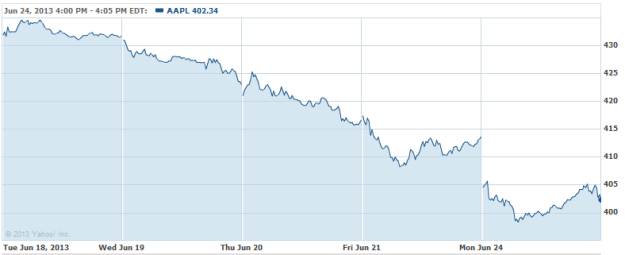 Don't Miss: Will Samsung's Swarm Smash Apple's iPads?