Ford's Record October, Where to Buy Apple's New iPad Air: Market Recap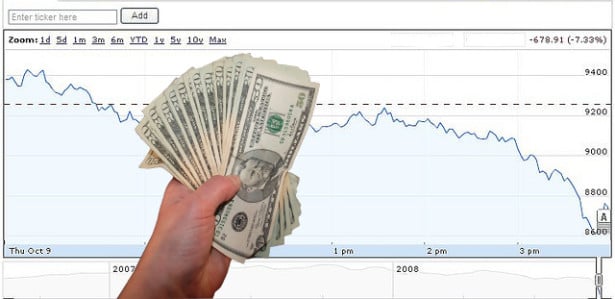 U.S. stocks rose during trading on Friday on better-than-expected manufacturing data. Investors are continuing to weigh corporate earnings and economic data for signs as to when the Federal Reserve will being tapering its bond purchases. After the Fed's two-day policy meeting this week, the central bank said the economy is showing signs of "underlying strength" despite the government shutdown at the beginning of October. Economists are still expecting that the shutdown negatively affected economic growth in the fourth quarter.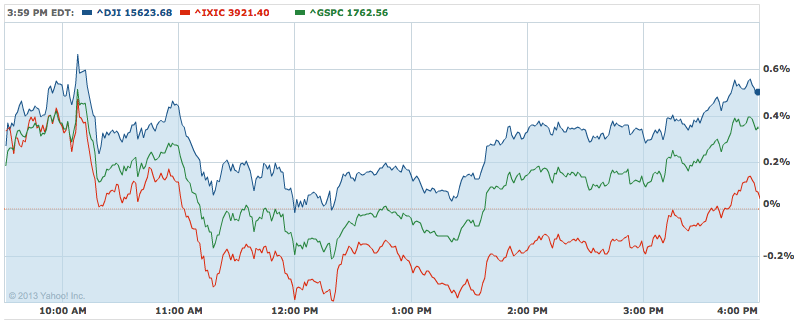 Gold: -0.69% to $1,314.60 per ounce Oil: -1.86% to $94.59 per barrel U.S. 10-Year: +3.07 to 2.62%
Manufacturing Expands Through October Despite Government Shutdown: Manufacturing conditions in the U.S. continued to improve in October despite the 16-day partial government shutdown. How much they improved, though, depends on whom you ask. According to the Institute for Supply Management, which released the October reading of its Manufacturing Report on Business on Friday morning, business activity within the manufacturing sector actually accelerated for the month.
Trimming Bonds and the Tree: Will We See a December Taper? In the statement from the close of its October meeting, the Federal Open Market Committee (FOMC) stayed the course on tapering. Much like the September statement, the FOMC is going to continue to watch market conditions. Improvement has been visible, but it has not suitably positioned the U.S. economy for an easement of the bond-buying program.
The Federal Reserve: Trust Us, We're Watching the Data Closely: The world's most powerful central bank is sticking to its story that any reduction in bond purchases will be determined by incoming data. Federal Reserve Bank of St. Louis President James Bullard notes improvement in the labor market over the past year, but more evidence is needed before a "taper" begins.
Here's your cheat sheet to today's top stocks stories:
Royal Bank of Scotland (NYSE: RBS) is siphoning thirty-eight billion pounds ($60.8 billion) of high-risk assets and placing them in an internal "bad bank." CEO Ross McEwan set the goal of removing 55 to 70 percent of the assets within the next two years. His statements and explanations of the process are printed in RBS's third-quarter results, filed Friday. The 38 billion pounds in assets represents 20 percent of RBS's capital.
Ford's (NYSE:F) U.S. retail sales weren't haunted in October. In fact, they were the best Ford has seen since 2004, and the company is hoping that success will only continue. The Dearborn, Michigan-based auto giant reported on Friday that Ford's total sales rose 14 percent in October, ushering in total sales of 191,985 vehicles. The company's retail sales were also up 15 percent at 142, 487 vehicles, making it the best retail sales month Ford has registered since 2004.

Facebook (NASDAQ:FB) investors were torn Wednesday following the social network's third-quarter earnings release, because although Facebook blew past investor expectations with a much higher-than-expected third-quarter profit of 25 cents a share on a revenue of $2.02 billion, Chief Financial Officer David Ebersman made comments during the company's earnings call that proved to spook both analysts and investors. According to Bloomberg, Ebersman warned in his call Thursday that Facebook's news feed promotions won't increase significantly in the future despite the social network's increased profitability from its marketing efforts.
Apple's (NASDAQ:AAPL) new iPad Air went on sale on Friday, and if you're looking to get the best deal on the device Wal-Mart (NYSE:WMT), Best Buy (NYSE:BBY), and Staples (NASDAQ:SPLS) are the places to go, 9to5Mac says. Wal-Mart typically offers a $20 discount on new Apple devices, 9to5Mac reports, which puts Apple's 16-gigabyte iPad Air at $479. Best Buy and Staples have announced that they will match Wal-Mart's price.
Office Depot (NYSE:ODP) and OfficeMax (NYSE:OMX) merger has been approved by the Federal Trade Commission. The U.S. regulator has been reviewing the deal for seven months on grounds that combining the No. 2 and No. 3 office supply retailers in the country would cut down too much on competition, Bloomberg reports. Office Depot and OfficeMax have argued that the merger would help them better compete with industry leader Staples (NASDAQ:SPLS).

General Motors (NYSE:GM) gave an excellent third-quarter earnings report today, which is raising questions about the 100 million shares still owned by the U.S. government. Analysts questioned GM Chief Executive Dan Akerson during the earnings conference call and received an answer that hints the automaker could have another buyback up its sleeve, a move that would help accelerate the U.S. Treasury's exit as a GM shareholder and clear the path for dividend payments to investors.
Follow Jacqueline on Twitter @Jacqui_WSCS
Don't Miss: This Is What Ford's Record October Looked Like.