Former Apple Evangelist Touts Motorola's Moto X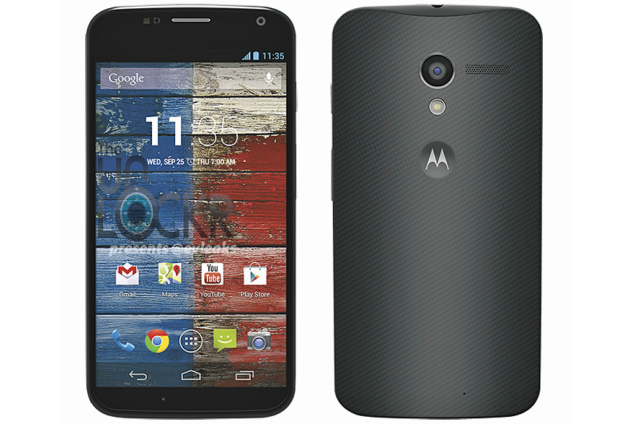 Can a former Apple (NASDAQ:AAPL) marketer entice iPhone users to switch to Google's (NASDAQ:GOOG) new smartphone? Guy Kawasaki, who joined Google as an advisor to Motorola earlier this year, appeared on CNBC this Friday to sing the praises of Motorola's recently released Moto X smartphone.  According to his Google+ profile, Kawasaki last worked for Apple in 1997 as the "chief evangelist."
Kawasaki told CNBC's Carl Quintanilla that the Moto X "is a very, very interesting phone," before proceeding to tout several advantages that the Android-powered smartphone offers users. He noted that the Moto X is "very responsive…things like if you want to take a picture, you just flick your wrist like this and it boots the camera. You can point anywhere on the screen and it will take a picture."
The former Apple employee also described the phone as a "very pure Google Android experience" and extolled the "level of personalization" that the phone offers.
"You can get it in 18 different colors with seven different colored accents," said Kawasaki, "You go online, pick out your phone, your colors. You can pick out how you can have the back engraved with your name or your address, and you send it off and about four days later you'll get a phone totally customized for you."
Although Kawasaki admitted that the smartphone market is currently "very, very tough," he believes that the kinds of features and benefits that the Moto X offers to users will allow it to be competitive. Kawasaki also briefly delved into Motorola's company culture. He noted that Motorola's "history, its legacy is basically inventing cell phones, and it's a pioneer. It's an engineering kind of strength company." He also described Motorola's emphasis on engineering as "very similar to Apple."
Respected Piper Jaffray analyst Gene Munster recently wrote a note to investors about the impact of Motorola's Moto X on the overall smartphone market. Although he seemed impressed by Motorola's "Apple-like" design approach, Munster doesn't believe that the Moto X will "change the current market dynamics between Android and iPhone."
Here's how Apple and Google closed out the week.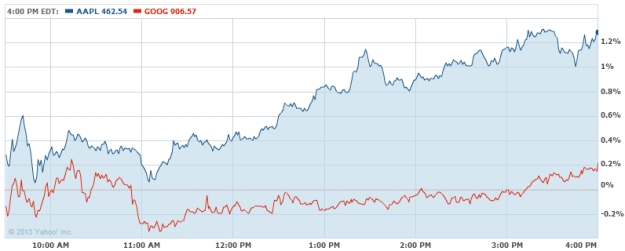 Follow Nathanael on Twitter (@ArnoldEtan_WSCS)
Don't Miss: 10 States to Buy Apple Products with Zero Sales Tax.