Friday's Midday Movers: 3 Stories Driving Markets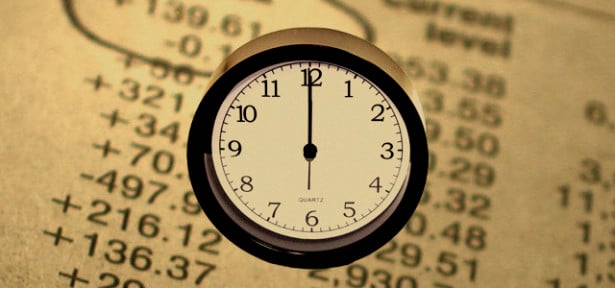 The major U.S. stocks were rising Friday going into the weekend. As of noon:
DIJA:

+0.43%

to 15,365.99
S&P 500:

+0.23%

to 1,687.30
NASDAQ:

-0.04%

to 3,714.54
Gold:

+1.66%

to 71.08
Oil:

-0.78%

to 25.46
U.S. 10-Year:

-0.52%

to 28.92
Here are three stories helping shape the market Friday afternoon.
1. Consumer Sentiment Plunges to Five-Month Low: Blame Higher Interest Rates? With interest rates on the rise and economic growth remaining sluggish at best, consumer sentiment dropped to a five-month low in early September.
According to Thomson Reuters/University of Michigan's preliminary reading, consumer sentiment plunged to 76.8 this month, compared to August's final reading of 82.1. It was the worst reading since April and the third lowest since the beginning of the year.
During the last recession, the index averaged slightly above 64. In the five years before the financial crisis, it averaged almost 90. Consumer sentiment is one of the most popular measures of how Americans rate financial conditions and attitudes about the economy. The University of Michigan's Consumer Survey Center questions 500 households each month for the index…(Read more.)
2. Are Car Sales the Only Driver of Retail Sales Growth? "The consumer continues to tag along slowly but surely," Wells Fargo Securities analyst Eugenio Aleman told Bloomberg, following the Department of Commerce's retail sales report. "We have to see better job growth, better income growth" for consumer spending to improve.
While pent-up demand for big-ticket items like homes and automobiles have helped strengthen the housing market and given a small boost to monthly retail sales figures for much of the year, as long as the labor market improves only modestly and growth in incomes and wages remains relatively stagnant — as it has since the end of the recession — many American consumers will continue to be in a difficult position… (Read more.)
3. Here Are the Details of Apple's Big Deal in Japan: How big is Apple's (NASDAQ:AAPL) distribution deal with Japan's largest carrier? Although Apple recently announced it had reached a distribution deal with NTT DoCoMo (NYSE:DCM), the Cupertino, California-based company did not reveal many details beyond the September 20 launch date.
However, a recent report from Japan's Nikkei newspaper via Apple Insider claims Apple's deal with DoCoMo requires that at least 40 percent of the carrier's overall handset sales consist of iPhones. If this is true, it would appear that both Apple and DoCoMo compromised on their original quota requests… (Read more.)
Don't Miss: Top 10 Career Fields to Boost Your Retirement Chances.