Friday's Midday Movers: 3 Stories Driving Markets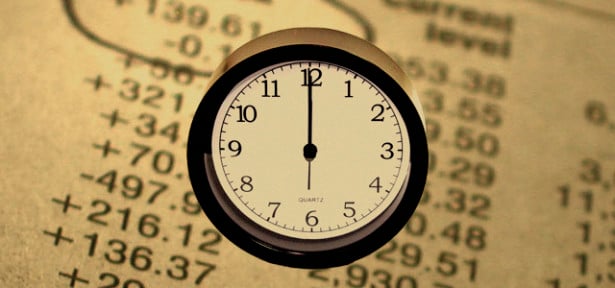 The major U.S. stocks were slowly gaining on Friday, moving into the weekend. As of noon:
DIJA:

+0.11%

to 15,526.10
S&P 500:

+0.11%

to 1,754.03
NASDAQ:

+0.11%

to 3,933.16
Gold:

–

1.09%

to 74.82
Oil:

+0.48%

to 23.0401
U.S. 10-Year:

-0.67%

to 25.05
Here are the three stories helping shape the market Friday afternoon:
1. Are Consumers Throwing in the Towel? Surrounded by a sluggish economy and dysfunctional government, consumer sentiment dropped to its lowest level of the year. According to Thomson Reuters/University of Michigan's final reading, consumer sentiment fell to 73.2 in October compared to a preliminary reading of 75.2 and September's final reading of 77.5. It was the worst reading since December 2012.
During the last recession, the index averaged slightly above 64. In the five years before the financial crisis, it averaged almost 90. Consumer sentiment is one of the most popular measures of how Americans rate financial conditions and attitudes about the economy. The University of Michigan's Consumer Survey Center questions 500 households each month for the index… (Read more.)
2. Apple's OS Mavericks Sets This New Record: Apple's (NASDAQ:AAPL) latest desktop operating system is being adopted by users at a record-breaking pace, according to recently released data from online ad network company Chitika. User adoption of OS X Mavericks in the U.S. and Canadian markets reached 5.5 percent within the first 24 hours after the software's release, beating OS X Mountain Lion's adoption rate of 1.6 percent last year. Chitika derived its data from millions of Mac OS X-based online ad impressions in its network.
As noted by Chitika, OS X Mountain Lion took around four days to reach the same level of adoption that Mavericks has reached in just 24 hours. However, unlike OS X Mountain Lion, OS X Mavericks is being offered at no cost to consumers, which is likely helping to boost its adoption rate… (Read more.)
3. The Obamacare Blame Game Continues: As part of its investigation into the glitches that plagued the rollout of the cornerstone provision of the Affordable Care Act, the individual insurance exchanges, the Republican-led House of Representatives has launched a series of hearings aimed at determining the party responsible for the technical problems and uncovering whether any of the decisions that led to Healthcare.gov's poor design were politically motivated… (Read more.)
Don't Miss: 8 Affordable U.S. Cities for Homeowners Based on Paycheck Power.