Give Me a Break: The New Android's Surprise Name Change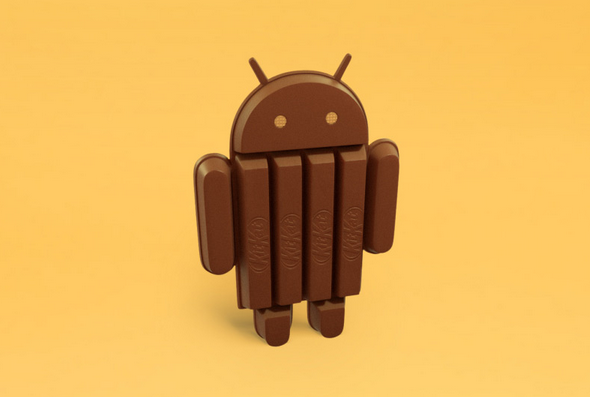 While the new version of Google's (NASDAQ:GOOG) Android operating system has been referred to as "Key Lime Pie" both internally and in the media for months, on Tuesday, Google, in partnership with both Nestle and Hershey (NYSE:HSY), announced that the new version of Android will be called "KitKat."
That news comes along with the announcement that the Android operating system now powers one billion smartphones and tablets around the world, making it by far the most popular operating system. The different versions of Android have been named after desserts in alphabetical order, including Cupcake, Donut, Eclair, Froyo, Gingerbread, Honeycomb, Ice Cream Sandwich, and Jelly Bean. It had been thought that Android 4.4 would be called Key Lime Pie, as the deal with KitKat makers Nestle and Hershey was kept a secret even from Google employees, according to a report from the Verge.
The Verge says there was no money exchanged between Google and the candy-makers who sell KitKats (Hershey makes and sells the candy in the U.S., while Nestle owns the brand throughout the rest of the world). But the candy companies will be helping to promote Android. Fifty million of the popular candy bars sold across 19 countries will have Android promotion on their packaging, as well as a chance to win Google Play credits or a Nexus 7 tablet inside the wrappers. In addition, Nestle has created 50 limited-edition Android-robot shaped KitKat bars.
A source from Google who spoke to the Verge said the company settled on the name because the KitKat is the favorite candy bar of Android engineering head Hiroshi Lockheimer. The Verge also said that this is the first time an operating system has been given permission to use a licensed name.
A report from Apple Insider said that KitKat likely won't be incredibly different from Jelly Bean. All Google had to say about KitKat was, "It's our goal with Android KitKat to make an amazing Android experience available for everybody." Apple Insider speculated that Android 4.4 would be more compatible with a variety of devices and would hopefully solve a fragmentation problem that had not been seen in Google's biggest competition, Apple's (NASDAQ:AAPL) App Store.
Due to the widespread use of Android devices and the cute robot logo, the partnership will likely be beneficial for both Google and the makers of KitKat. The cute robot and the chance to win credits that can be used on Android phones will encourage customers to reach for a KitKat over a different candy bar when looking to take a break, and Google gets free promotion for the new operating system.
Follow Jacqueline on Twitter @Jacqui_WSCS
Don't Miss: Interwebs Get This First Video of the Rumored iPhone 5C.