Google Breaks $1,000, Chipotle Reports Tasty Earnings: Market Recap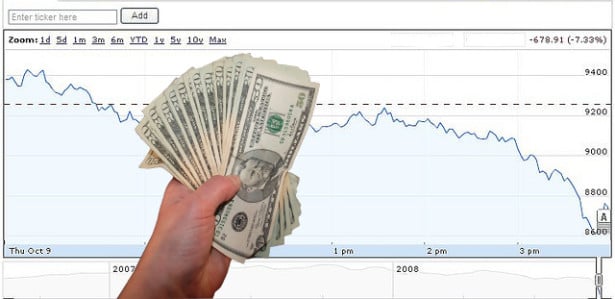 U.S. stocks rose during trading on Friday as investors felt confident the Fed would refrain from cutting stimulus anytime soon in the aftermath of the partial government shutdown that ended on Wednesday evening. The majority of economists surveyed by Bloomberg said that the Fed will have to wait until its March 18-19 meeting before cutting stimulus because of delayed economic reports caused by the shutdown. Google (NASDAQ:GOOG) hit record highs on Friday, trading above $1,000 for the first time.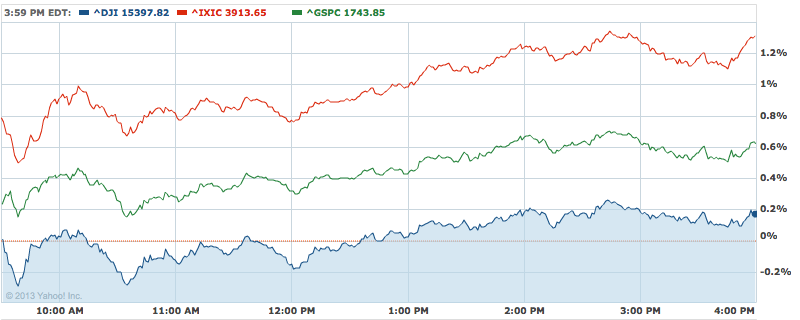 Gold: -0.58% to $1,315.30 per ounce; Oil: +0.24% to $101.11 per barrel; U.S. 10-Year: +0.08 to 2.589%.
Adding Up the Economic Cost of Political Dysfunction: After more than two weeks of brinkmanship that pushed the U.S. government through a partial shutdown and to the doorstep of its borrowing limit, both houses of Congress have voted to pass a stopgap measure to fund the government through January 15 and suspend the debt limit through February 7… (Read more.)
Can Budget Talks Prevent Another Shutdown? Immediately after passing a bill to reopen the federal government and pay those pesky bills, Congress got a move on budget talks — a smart move, considering the common view that the standoff is merely being put off. In a speech on Thursday, President Barack Obama spoke heavily on budget cuts, according to CNN transcripts… (Read more.)
Federal Reserve: Time to Cut Back on Bond Purchasing? Post-shutdown, the U.S. economy has been left in shadow — it's difficult to fully make out the details. The hazy future of our country is most salient to the Federal Reserve's decision on whether to cut back on its immense bond purchases… (Read more.)
3 Charts Revealing America's Disappearing Middle Class: The Great Recession technically ended more than four years ago, after U.S. gross domestic product rebounded from the trough of the credit meltdown. However, high unemployment, stagnant wages, and government policy continue to weigh on living standards and economic confidence… (Read more.)
Here's your cheat sheet to Friday's top stocks stories.
Google (NASDAQ:GOOG) bulls have existed for as long as the brand has. The Internet services firm, founded in 1998 by Sergey Brin and Larry Page, hit public markets in 2004, and has pretty much made investors wealthier ever since. Google shares debuted at $85 a pop, and just more than nine years later Google hit an intraday high of $1,015.46 on Friday and closed at $1,011.41… (Read more.)
General Electric's (NYSE:GE) third-quarter results did not manage to surpass the $3.49 billion, or 33 cents per share, in net income or $35.7 billion in revenue that GE reported in the same quarter last year. Nor did GE manage to beat analyst expectations for both profit and sales. But while net income fell 9 percent to $3.19 billion, or 31 cents per share, and revenue dropped 1.5 percent to $35.7 billion, missing analyst expectations for nearly $36 billion excluding one-time items, earnings per share hit 36 cents, a penny higher than analysts predicted… (Read more.)
Morgan Stanley (NYSE:MS) closed Thursday up about 1 percent at $28.93 per share and continued to climb higher in trading on Friday after reporting strong third-quarter financial results. Morgan Stanley's net revenues climbed 50 percent on the year to $7.9 billion, beating the mean analyst estimate of $7.7 billion. Morgan Stanley's earnings increased 10 percent on the year to 45 cents per common diluted share, beating the mean analyst estimate of 40 cents per share… (Read more.)
Chipotle Mexican Grill (NYSE:CMG) shareholders are celebrating with a burrito on Friday, because although the fast-growing chain missed on its earnings that were released Thursday after the bell, Chipotle's revenue of $826.9 million managed to beat Wall Street forecasts, and its same-store sales were also up 6.2 percent, blowing past expectations. Chipotle maintained confidence for future progress as it projected mid-single-digit percentage growth for same-restaurants sales in its full-year forecast and low single-digit percentage growth for 2014… (Read more.)
Samsung (SSNLF.PK) announced that it will no longer seek injunctions over mobile standard essential patents for a period of five years in a move that could lessen the number of patent-infringement lawsuits brought against Apple (NASDAQ:AAPL), according to a press release from the European Commission. Samsung's announcement was made in an effort to resolve a European Commission investigation into the South Korea-based company's abuse of the patent system… (Read more.)
Amazon.com Inc.'s (NASDAQ:AMZN) plans for a TV set-top box are stirring rumors again after the company's stock was boosted by an upgrade from UBS and investors wait for the e-commerce giant's third-quarter earnings report to be released Thursday. UBS analyst Eric Sheridan upgraded his price target on Amazon's stock to $385 from $305 per share and raised his rating from neutral to buy… (Read more.)
Follow Jacqueline on Twitter @Jacqui_WSCS
Don't Miss: Google Hits $1,000: Here's Who's Getting Rich.