Google: Floating Barge Structure Is Ours, Not a Party Boat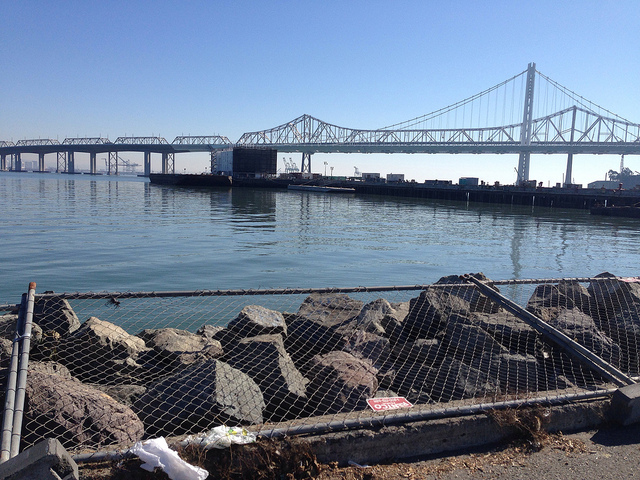 Google's (NASDAQ:GOOG) secret is out, and after much insider speculation, the tech giant has confessed its connection to the floating barge structure currently hanging out in San Francisco Bay.
It would have been hard for the Mountain View, California-based company to keep quiet much longer, considering the uncommon structure covered in scaffolding and dark netting on top of a barge is not exactly inconspicuous. Still, Google tried as hard as it could to stay tight-lipped about the operation, and the mystery led to many different (and entertaining) rumors.
It was early last week when the first reports of the barge were made by CNET and local CBS affiliate KPIX, but while the former predicted that the structure could be a new Google floating data center, the latter suggested that it was some sort of technology showroom for the company's latest products.
KPIX took its report a step further on Friday, speculating that the San Francisco Bay barge could house a party deck and showrooms that market new Google X products — unfortunately, the tech company released a statement Wednesday that all but dashed any hopes of glamorous Google parties.
The company said to CNET: "Google Barge … A floating data center? A wild party boat? A barge housing the last remaining dinosaur? Sadly, none of the above. Although it's still early days and things may change, we're exploring using the barge as an interactive space where people can learn about new technology."
Both reports were therefore a little far off, especially KPIX's suggested party decks, but the news outlets did suggest in one way or another that the structure could showcase the company's new technology, and right they were. CNET also pointed out that a second structure sitting on top of a barge is still floating in Casco Bay off Portland, Maine, but no confirmation has been made about its owner.
It is possible that Google now feels the need to design more extravagant showrooms because it is facing increased competition from rivals like Apple (NASDAQ:AAPL), which take advantage of their retail stores to showcase their latest tech gadgets and devices. Apple is having more and more success driving consumers into its stores, especially when said customers have a technological hiccup or need assistance. Now, Google might be more interested in putting a face to the Google Glass name, even if consumers have to travel to a barge to find one.
Don't Miss: Baby Boomers Are Addicted to the Internet.