Google Play Narrows Download Gap With Apple's App Store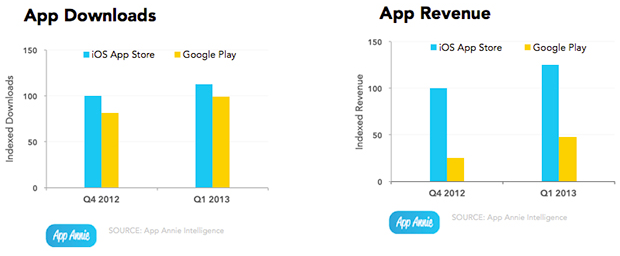 App Annie, an market intelligence firm, released its market index for the first quarter of 2013 on Wednesday. At a glance, the report reveals familiar trends in app download and revenue growth. Namely: Google's (NASDAQ:GOOG) Play is growing faster, but Apple (NASDAQ:AAPL) still makes more money.
Google Play achieved a higher growth rate that the iOS App Store for both downloads and revenues in the first quarter. All told, Google Play downloads reached nearly 90 percent of total iOS App Store downloads, led by new growth in Russia.
On the revenue front, Japan and South Korea were key players in Google Play's growth. Meanwhile, the United States continued to be responsible for most of iOS revenue growth. All told, App Annie reports that while Google Play had a higher growth rate, the iOS App Store gained more in absolute revenue and ultimately earned about 2.6 times what Google did in the first quarter…
By country, the top countries for iOS App Store Revenue were the U.S., Japan, the U.K., China, and Australia, in that order. China moved up two positions from the fourth quarter of 2012, which suggests that developers may decide to spend more time catering products to that market in 2013.
For Google, the top countries for revenue were Japan, South Korea, the U.S., the U.K., and Germany, in that order. The U.S. actually moved down one position compared to the fourth quarter of 2012.
Overall, games remained the most-downloaded and most-lucrative category for both platforms. Games accounted for as much as 70 percent of iOS App Store revenue in the first quarter, and as much as 80 percent of revenue for Google Play.
For iOS, the second-most lucrative category was productivity, while for Google it was communication.
Don't Miss: Will Google Glass Make a Splash With an Apple-Inspired Game Plan?