Google Product Leak, Pfizer Announces Share Buyback: Market Recap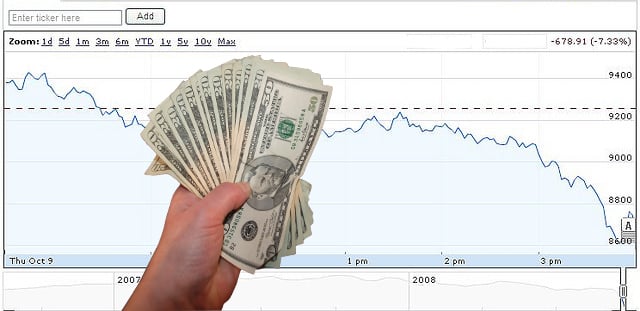 U.S. stocks are poised to see the best first half of the year since 1999 despite hesitation caused by Federal Reserve Chairman Ben Bernanke's comments about the possibility of ending stimulus. Stocks fluctuated today after the biggest three-day rally for the S&P 500 since January earlier this week.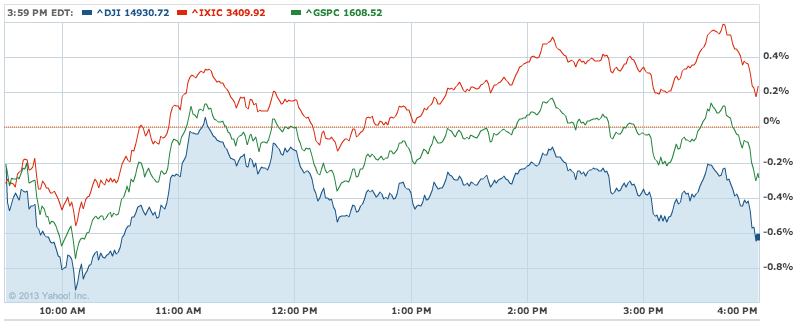 Gold: +1.05% to $1,229.60 per ounce  Oil: -0.67% to $94.97 per barrel  U.S. 10-Year: -0.20 to 2.478%
Consumer Sentiment Takes a Surprising Turn: Despite sluggish economic growth and lingering high rates of unemployment, consumer sentiment in the United States remains near six-year highs. According to the Thomson Reuters/University of Michigan's final reading, consumer sentiment in June came in at 84.1, a slight decrease from 84.5 in May. Last month's reading was the best level for the index since July 2007… (Read more.)
Watch Out Economy, Chicago PMI Dropped to 4-Year Low: Based on the Chicago Purchasing Manager's Index, growth in business activity has slowed sharply this month. Growth in Chicago-area manufacturing decelerated in June, with the business barometer falling to a 51.6 reading from the 14-month high of 58.7 recorded in May, missing economists' expectations for a 55.0 reading. That drop represented the largest monthly decline since October 2008, although economists did note that May's reading was unusually strong… (Read more.)
What Do Increasing Bond Rates Mean For Mortgages?: 30-year bonds have joined the 10-year treasury note in finding their swagger again, pushing upwards towards a high not seen since March of  last year. The bonds reached 4.46 percent today, as markets continue to struggle with the correct interpretation of Ben Bernanke's remarks about the future of quantitative easing… (Read more.)
Here's your cheat sheet to today's top stock stories:
BlackBerry (NASDAQ:BBRY) announced in November that its new platform — BB10 — was finally, truly going to be released in January, and since then shares of the smartphone maker have gained 78 percent. It is clear that the company's future is dependent on the success of that new mobile operating system, its first new product launch in more than 18 months… (Read more.)
Ford Motor Co (NYSE:F) has announced a recall of 13,000 Explorer, Taurus, and Lincoln MKS cars and SUVs after receiving reports that child safety locks were failing to work on rear doors. The company found that the vehicles' safety locks can be turned off when doors are opened or closed, giving children the ability to open the back doors with their inside handles and potentially injure themselves, though no injuries have been reported… (Read more.)
Pfizer Inc. (NYSE:PFE) announced Thursday its board had authorized a $10 billion share buyback with $3.9 billion left on its current repurchase program. The buyback is the company's fourth in two-and-a-half years, and the program totals $39 billion thus far. Pfizer shares rose 1.4 percent to $28.58 in after-hours trading after the announcement was made… (Read more.)
Sprint Nextel Corp. (NYSE:S) is reportedly not being required to pay divestitures by U.S. regulators in its purchase of the remaining half of Clearwire (NASDAQ:CLWR) that it doesn't already own. The Federal Communications Commission is simultaneously exploring the deals between Sprint and SoftBank (SFTBY.PK) and Sprint and Clearwire. SoftBank recently won a bidding war against Dish Network (NASDAQ:DISH) for Sprint, the nation's third largest wireless carrier… (Read more.)
Google's (NASDAQ:GOOG) latest product leak could give its competitors new reasons to worry. According to The Wall Street Journal, the Internet giant's next move involves a video game console and wristwatch powered by its popular Android operating system. Google's plans reflect its fervor to jump the gun on its competition and release certain products its rival, Apple Inc. (NASDAQ:AAPL), is already reported to be working on… (Read more.)
Don't Miss: The 8 Least Expensive States to Live in the U.S.
Follow Jacqueline on Twitter @Jacqui_WSCS