Google Ramps Up Google Glass, Chipotle Is Serving Tofu: Market Recap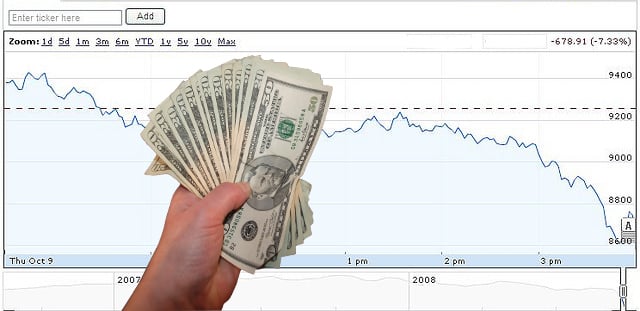 U.S. stocks were a mixed bag Monday as the S&P 500 made another record-closing high, while disappointing earnings results from McDonald's (NYSE:MCD) brought down the Dow. McDonald's missing analyst estimates actually helped buoy the market, as it fueled investor belief that the economy isn't ready for stimulus measures to end.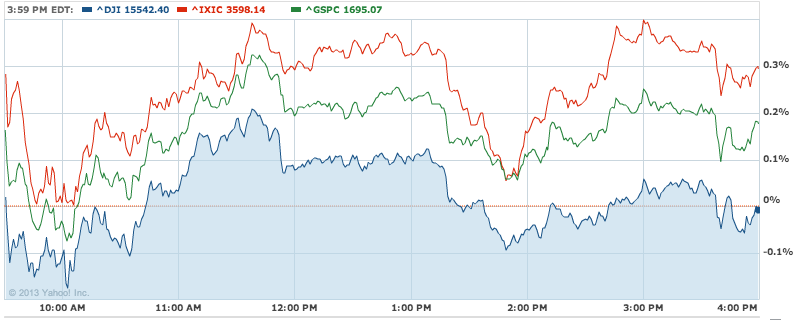 Gold: +3.10% to $1,333.00 per ounce; Oil: -1.24% to $106.71 per barrel; U.S. 10-Year: -0.21 to 2.488%
2016 Or Bust: When Will the Fed Tighten Policy?: As manager of the Total Return Fund (one of the world's largest mutual funds), PIMCO co-founder and co-CIO Bill Gross has a unique perspective on economic and business conditions. Gross is widely regarded as one of the best bond investors on the planet… (Read more.)
Can the IRS Scandal Degenerate Any Further?: Just when it seemed like the Internal Revenue Service mess couldn't degenerate further, Inspector General J. Russell George found himself answering more questions on Capitol Hill, this time getting chastised by both parties. News broke in May that the IRS was targeting conservative groups during the 2012 election cycle… (Read more.)
Good News, Bad News, and Uncertainty: G-20 Summit Results: The world's search for growth moves forward as Group of 20 members continue to suggest policy, advise one another, and ultimately provide a solution to the millions of job seekers across the globe looking for work. Good news, bad news, and uncertainty for global markets were all present at the most recent meeting of G-20 economies in Moscow, with the bad news being that Europe still cannot get back on the growth wagon… (Read more.)
Here's your cheat sheet to today's top stocks stories: 
General Motors (NYSE:GM) has apparently decided it's finally time to take electric vehicles seriously. Dan Akerson, chief executive of GM, has formed a task force to study Tesla (NASDAQ:TSLA) and report back on the potential for the California EV maker to disrupt GM's business, according to Bloomberg. It represents the shift in company culture Akerson has wanted to implement since taking the reins at GM in 2010… (Read more.)
Apple (NASDAQ:AAPL) will report earnings after the bell on Tuesday, and analysts seem eager to downwardly revise their earnings and sales estimates. Misses from other big-name tech companies like Samsung (SSNLF.PK), BlackBerry (NASDAQ:BBRY), and HTC have helped drive estimates down over the past few weeks… (Read more.)
Chipotle Mexican Grill (NYSE:CMG) has added tofu to its menu for its line of restaurants stationed throughout the West Coast called "Sofritas," and the move could be one in the right direction for fast food. If the second-quarter earnings report from McDonald's (NYSE:MCD) says anything about the current state of the fast food industry, it shows that the drive-thru has seen better days… (Read more.)
Google Inc. (NASDAQ:GOOG) announced it has invested in Himax Technologies (NASDAQ:HIMX) subsidiary Himax Display Inc., a company that makes liquid crystal on silicon chips and modules, as the company ramps up its production of Google Glass. Google now owns a 6.3 percent stake in the Himax Display Inc., and the deal includes the option to increase that share over the course of next year… (Read more.)
Netflix Inc. (NASDAQ:NFLX) reported earnings after the bell Monday. The company's adjusted earnings per share grew 345.45 percent from 11 cents in the second quarter of last year to 49 cents, beating analyst expectations that put the figure at 40 cents. The company met analyst expectations on revenue, posting $1.07 billion, an increase of 20.23 percent from last year.
Nokia (NYSE:NOK) has been struggling with smartphones, and Microsoft (NASDAQ:MSFT) has shared its fate in that market almost directly with Finnish phone maker. They have had steep competition in the high-end smartphone market, but Nokia has some schemes that may find it a niche… (Read more.)
Follow Jacqueline on Twitter @Jacqui_WSCS
Don't Miss: Amazon's Growing Cloud Pressures IBM and Oracle.