Greenpeace Loves Apple's New Green Hire
Apple's (NASDAQ:AAPL) recent hiring of a former head of the U.S. Environmental Protection Agency has won it praise from Greenpeace. Greenpeace is one of the best known non-governmental environmental protection organizations, and a former outspoken critic of the Cupertino-based company's environmental practices.
At the All Things D conference earlier this week, CEO Tim Cook revealed that Lisa Jackson, the former Administrator of the EPA, had been hired as Apple's vice president for environmental initiatives. Greenpeace, which has previously criticized Apple over its use of coal-based power sources for its data centers, was pleased at the news of Jackson's hiring.
Via Greenpeace's official blog, Senior IT Analyst Gary Cook stated that, "Apple has made a bold move in hiring Lisa Jackson, a proven advocate with a track record of combating toxic waste and the dirty energy that causes global warming, two of Apple's biggest challenges as it continues to grow. Jackson can make Apple the top environmental leader in the tech sector by helping the company use its influence to push electric utilities and governments to provide the clean energy that both Apple and America need right now."
Apple states on its website that, "Our goal is to power every facility at Apple entirely with energy from renewable sources — solar, wind, hydro and geothermal." The tech company notes that it has already achieved "100 percent renewable energy at all of our data centres; at our facilities in Austin and Elk Grove in the US, Cork in Ireland and Munich in Germany; and at our Infinite Loop campus in Cupertino, California." Apple recently announced that it is building one of the largest photovoltaic solar array installations in the country at its data center in Maiden, North Carolina.
Jackson served as head of the EPA for four years and left the agency in February 2013. In an emailed statement, Jackson wrote, "I'm incredibly impressed with Apple's commitment to the environment, and I'm thrilled to be joining the team."
Here's how Apple has traded so far this week.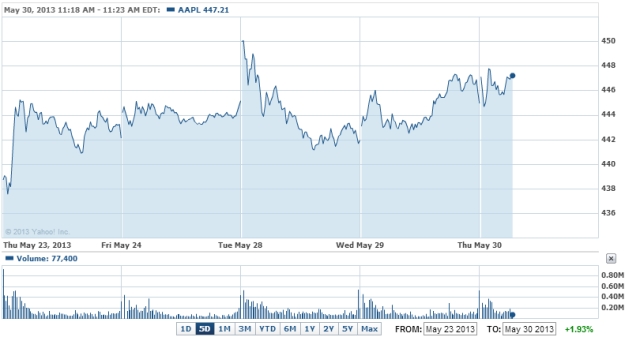 Follow Nathanael on Twitter (@ArnoldEtan_WSCS)
Don't Miss: Analyst: Apple Has Found Supplier Wisdom!