Groupon Celebrates Its Fifth Birthday with a Redesigned Website
Groupon (NASDAQ:GRPN) rang in its fifth birthday on Friday, and the company celebrated by unveiling a completely redesigned website and an updated version of its mobile app. The Chicago-based Internet giant started out in 2010 as a daily deals website, but in the face of competition, worked to redevelop itself into the full-scale online marketplace it is today.
According to Seeking Alpha, Groupon released its new website on the first of the month and revealed a new setup that makes  it easier for users to secure the deals they need and search and browse for the offers they want. Now, customers can not only browse updated offers but they can also receive suggestions from Groupon based on previous purchases and reported interests.
Because the company has grown the number of deals it features on its website to tens of thousands, its page needed to be reorganized in a way that makes it the most user-friendly and manageable, and that is what CEO Eric Lefkosky believes his company achieved.
Lefkofsky explained upon the site reveal, "Our new site and mobile app makes it easier and more rewarding for customers to check Groupon first when they want to buy just about anything, anytime, anywhere."
Seeking Alpha outlined Groupon's changes and reported that the website's new features include a personalized homepage, enhanced search and browse options, cross-channel search results, and better search filters.
One of Groupon's strongest distinctions is its ability to curate deals based on its users' interests and previous purchases, and Lefkofsky asserted Friday that the website now does this better than ever, not only alerting customers to deals based on their reported interests, but also highlighting the other discounts customers with similar shopping patterns have already purchased.
Groupon now also offers type-ahead suggestions in its updated search bar, and the website features search results that cover all Groupon deals that range from restaurant offers, travel discounts, concert packages, and more.
In addition, the new, easy-to-use filters allow users to customize their searches so Groupon can accurately find the deals most relevant to them.
The daily deals website has also registered success on its mobile platform via apps supported by Apple (NASDAQ:AAPL) iPhones and iPads, as well as Google (NASDAQ:GOOG) Android-powered devices. So along with the website update, Groupon also worked to personalize its users' shopping experiences on their mobile phones and tablets.
According to Seeking Alpha, the Groupon app now can follow customers where they travel, helping it more accurately suggest deals for the user, and the app's search function also has been updated. By giving the app the ability to recognize a mobile user's location, Groupon can better serve its customer and filter the search results he or she eventually receives when looking for deals in a new area, according to the company.
The deals site now reports that more than 50 million people in 43 countries worldwide have downloaded the Groupon app, and it is confident these updates will help the website and mobile app increase its presence even more in years to come.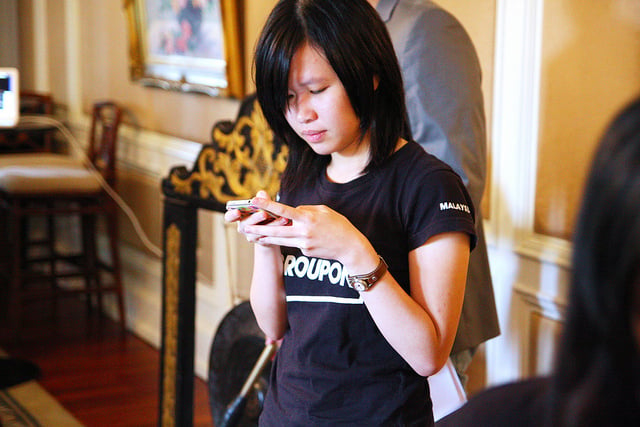 Don't Miss: Facebook's CFO Spooks Investors Following Earnings Release.