Gundlach: Apple Is Headed Back to $500!
Jeffrey Gundlach, the CEO and CIO of DoubleLine Capital, is continuing his relatively recent trend of coming out in support of owning Apple (NASDAQ:AAPL) stock. Gundlach is perhaps best known for making a famously accurate call when he began shorting Apple in April of 2012 when it was still trading for around $610.
Gundlach recently discussed his latest views on Apple stock on CNBC's "FastMoney Half Time Report" with Scott Wapner. On a previous appearance on the show, Gundlach stated that if he was forced to choose on Apple stock, "I would own it instead of shorting it."
In his most recent interview Gundlach confirms that he has owned the stock since it was selling for around $405. Gundlach notes that "Apple seems to be forming a base." Although he admits that the stock seems to have trouble "rallying above $450," he predicts that it will soon rise. He is not sure that Apple stock will ever hit $700, but Gundlach is confident that "$500 should be a fairly easy place for the stock to go to."
The analyst believes Apple is an "amazing study in market psychology" since it has gone from "believed and revered to highly questioned" in investors' eyes despite having the same apparent strengths and weaknesses. He further supports his view that the stock will go to $500 by noting that it is too cheap when considering the company's significant "cash flow engine."
Gundlach also talked up Apple's "diversifier" attributes, noting that the stock seems to inexplicably go down when the S&P rises, and goes up when the S&P drops. These "anti-stock" qualities, as well as Apple's low P/E "when you strip out the cash," make Apple a good diversification investment to include in portfolios. He also points out that Apple is "working on giving some cash to shareholders."
"People are going to perpetually return to a need for income," states Gundlach via Barron's. Apple closed down 0.93 percent, or $4.16, at $445.15 today. Here's how Apple has been trading so far this week.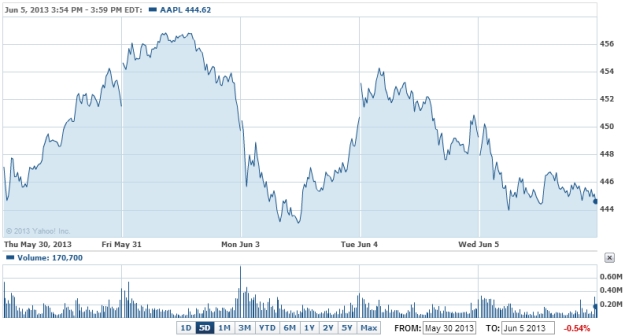 Follow Nathanael on Twitter (@ArnoldEtan_WSCS)
Don't Miss: Will This E-Book Trial Testimony Help or Hurt Apple?