Half of All Vehicles May Have This Apple Feature by 2018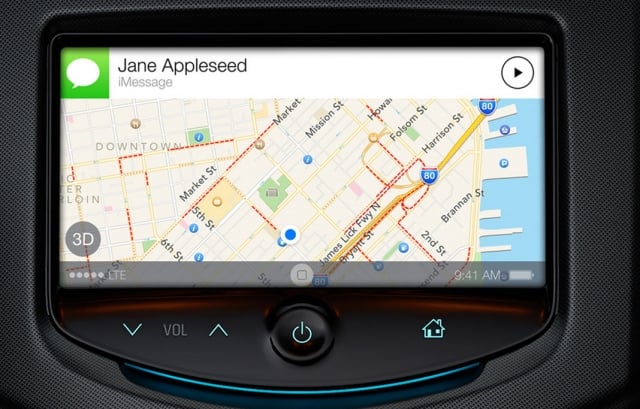 Will automotive entertainment systems be Apple's (NASDAQ:AAPL) next big market? According to a new report from ABI Research, almost half of all "in-vehicle infotainment" systems will include Apple's "iOS in the Car" by 2018. Although carmakers have traditionally made their own in-vehicle infotainment systems, consumers are increasingly demanding the ability to integrate their smartphones with a car's multimedia system.
However, the rapidly evolving smartphone market presents a challenge for carmakers that want their systems to remain compatible with the latest mobile devices. "Car OEMs face the difficult challenges of not only how best to integrate smartphones into their vehicles, but also how to ensure that the integration strategy remains viable throughout the life of the vehicle and multiple generations of smartphones," noted ABI Research analyst Gareth Owen.
Apple's iOS in the Car is the Cupertino-based company's answer to this growing market niche. Apple's smartphone integration technology was first introduced at the Worldwide Developers Conference this summer and included as part of iOS 7. As explained by Apple, "If your vehicle is equipped with iOS in the Car, you can connect your iPhone 5 or later and interact with it using the car's built-in display and controls or Siri Eyes Free."
Although smartphone-integrated in-vehicle systems are usually associated with luxury brands, ABI Research believes that low-cost vehicle makers may actually be more receptive to smartphone-integrated systems since they have invested less time and resources in their in-car systems than many luxury carmakers have. "OEMs producing lower-end mass-market cars will probably invest significantly less on developing their own systems and rely more on smartphones-centric infotainment solutions," noted Owen.
On the other hand, ABI Research believes that the consumer demand for smartphone-integrated systems will eventually push all automakers to include some time of smartphone compatibility in vehicles. "It is inevitable that consumers will demand to be able to use their smartphones in cars, even in luxury cars equipped with the latest top-of-the-range fully embedded infotainment systems," wrote Owen.
Apple has already announced twelve automakers that will be supporting the iOS in the Car functionality at this year's WWDC. The "Apple-friendly" automakers include Acura, Chevrolet, Ferrari, Honda (NYSE:HMC), Hyundai, Infiniti, Jaguar, Kia, Mercedes-Benz, Nissan, Opel, and Volvo. Although Apple is predicted to hold a significant part of this growing market, it is unclear how much revenue Apple will be able to generate directly from iOS in the Car. Horace Dediu at Asymco previously noted that the potential number of units that would be produced with this feature would be too low to give Apple much in the way of direct revenue. On the other hand, this system could create a foundation for a much more lucrative auto accessory market if the automakers continue to adopt Apple's ecosystem.
Follow Nathanael on Twitter (@ArnoldEtan_WSCS)
Don't Miss: Apple Keeps Tablet Market Crown Despite Android's Growth Spurt.