Has Apple Been Crushing Samsung?
Apple (NASDAQ:AAPL) may appear to be on the defensive at the moment, but the company has "crushed" Samsung (SSNLF.PK) shares over the last decade, Bespoke Investment Group said in a report on Thursday, according to Barron's. The firm charted the performance of the two companies for 10-year, three-year, and one-year time frames and found that the iPhone maker had performed phenomenally better than its South Korean rival for years.
According to the report, Apple's shares are up 5,749 percent since 2003, while Samsung's shares are up 373 percent. In addition, Apple had outperformed Samsung since 2009, that is, the current bull market, by 421 percent to 195 percent. However, in the last year Samsung was up 22 percent against a 27 percent decline for Apple.
The 10-year head-to-head comparison, courtesy of Bespoke: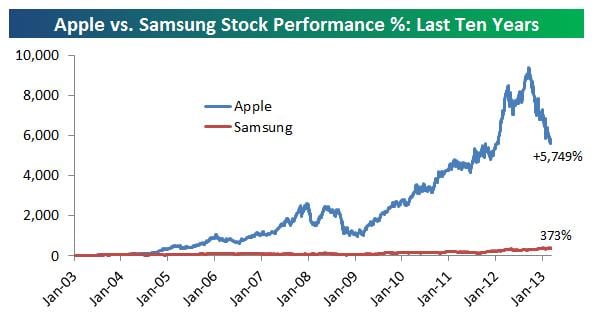 According to Bespoke, while Samsung was Apple's main competitor, because the Korean company's stock did trade on U.S. exchanges, "hardly anyone here even looks at the stock."
Here's the one-year comparison between Apple and Samsung from Bespoke: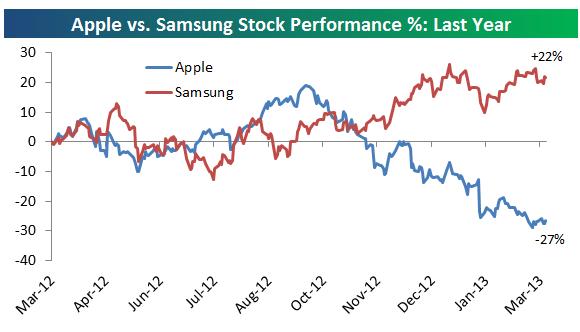 The firm did not make recommendation on either buying, selling, or holding on to either stock.
Samsung is expected to unveil its next Galaxy S IV smartphone on Thursday night, as investors' expectations from Apple go up. The iPhone maker has not indicated when the upgrade to its latest iPhone 5, which was released late last year, is likely to arrive.
Don't Miss: Analyst: Apple Is A Buy, But Expect a Slow Second Quarter.