Has Apple Figured Out This Giant Market?
Has Apple (NASDAQ:AAPL) finally discovered the formula for success in the Indian market? Thanks to price discounts and an equal monthly installment plan option, Apple has managed to boost the sales of its iPhone by 300 to 400 percent over the last several months according to Credit Suisse via the Economic Times.
Apple has combined its aggressive new pricing strategy with a monthly installment plan crafted especially for the Indian market. The equal monthly installment plan, or EMI, allows Indian consumers to make a small initial down payment on an iPhone 4 or iPhone 4S and then pay the rest of the balance off over a 6 to 12 month period without incurring any interest.
Credit Suisse analyst Sunil Tirumalai wrote in a note to investors via the Economic Times that, "we believe that iPhone sales are nearing 400,000 units per month in India — that is nearly 3 percent share of handset sales for a single top-end product in a market that has long been dominated by low-end feature phones." Previous average monthly sales for the iPhone were around 70,000 to 80,000 units.
Last month Apple added an 18 percent cash discount to its EMI plan, which created an effective discount of 23 to 27 percent on the total cost of the iPhone. Since most of India's population lives on less than $2 a day, premium Apple products are usually at a distinct price disadvantage. However, the EMI payment scheme coupled with an advertising campaign appears to have changed Indian consumers' perception of Apple's products as unaffordable.
Apple Insider notes that Apple has previously offered trade-in rebates for Indian consumers who exchange their old smartphones for an iPhone. Those customers received a $130 discount off the iPhone while students received a discount of $144.
Here's how Apple has traded so far this week.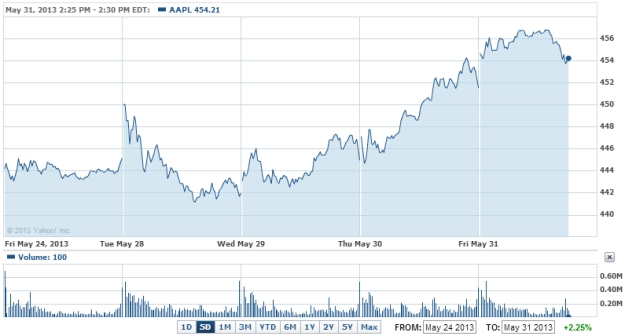 Don't Miss: Apple Celebrates iPod Touch Milestone With New Model.