Has Apple Lost Its Innovation Mojo?
Has Apple (NASDAQ:AAPL) lost its innovative touch? According to a recent survey commissioned by Bloomberg, 71 percent of respondents believe that the Cupertino-based technology company has lost its position as the lead industry innovator. Although 43 percent of respondents believe Apple will eventually regain its lead position, 28 percent believe Apple has permanently surrendered its innovation crown.
Bloomberg also provided a geographic breakdown of the survey. Respondents from Asia were the most critical of Apple, with 83 percent of them believing that Apple had lost its innovative touch. Europe was also quite negative on Apple, with 74 percent of European respondents saying that the California-based tech company had lost its position as a lead innovator. Sixty-three percent of U.S. respondents believe that the iPhone maker has lost its ability to innovate.
Some respondents mentioned increased innovation from Apple rivals such as Samsung (SSNLF.PK), which has a much wider range of mobile devices. Gala Prada, head of a pension funds and a portfolio manager for Fiatc Seguros, is one investor who cited Samsung's industry innovation. "There are companies like Samsung — which are taking the lead right now innovating in all kinds of consumer and electronics products — which also make Apple, on a relative basis, look a little bit behind," Prada told Bloomberg.
Other respondents pointed to the loss of Steve Jobs as one of the major reasons why they believe Apple has lost its innovative edge. Lionel Mellul, who heads the cash equity business at Sunrise Brokers, believes current CEO Tim Cook is not measuring up to his predecessor. "That company needs a strong personality at the helm. There is a huge challenge, and they are at the crossroads where Apple could become the next Microsoft (NASDAQ:MSFT)," said Mellul.
Although this survey appears to reflect a generally negative view of Apple's potential for innovation, it should be noted that the survey was conducted on a rather small and select group. The survey only included 906 traders, investors, and analysts from around the world.
Apple closed up 1.33 percent, or $5.71, at $434.56 on Thursday. Here's how Apple has traded so far this week.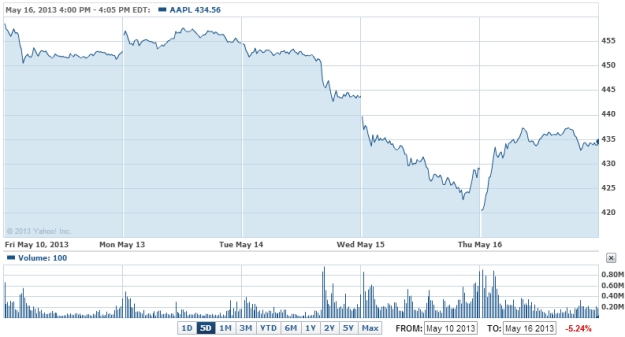 Don't Miss: This Apple Supplier Is Still Messing Up Labor Practices.