Has Microsoft Beaten Apple With the Xbox One?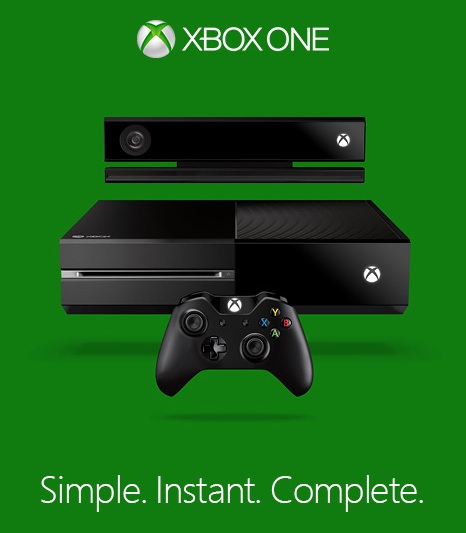 Has Microsoft (NASDAQ:MSFT) beaten Apple (NASDAQ:AAPL) in the race to give consumers an all-in-one entertainment hub? Earlier this week, Microsoft revealed its vision for the future of living room-based entertainment when it unveiled the Xbox One. Microsoft expanded on the Xbox 360's development as a centralized content delivery device for users, and added even more features to the latest iteration of its video game console.
The Xbox One has strayed far from its humble origins as a mere video game console. Besides expanding on the Xbox 360's capabilities as an entertainment hub, the latest iteration has also gained several futuristic features. Kinect, Microsoft's gesture-based control system, has now been combined with a Siri-like voice command system. Not only does the Kinect system interpret your hand gestures, it also distinguishes users through its face-recognition software.
In fact, it's hard to think of a feature that hasn't been incorporated into the Xbox One. It can play Blu-ray discs, 3D video, live TV, and music. Users can also browse the Internet, send instant messages, and place video calls through Skype. Oh yes, and you can also play video games on it.
The only question is: do consumers want all these features? Without a comprehensible user interface, all of the Xbox One features are for naught. Ironically, by incorporating so many technical features that are focused on non-video game activities, Microsoft may have inadvertently alienated their hardcore gamer user base as well as the less tech-savvy mainstream users that this product is ostensibly geared towards.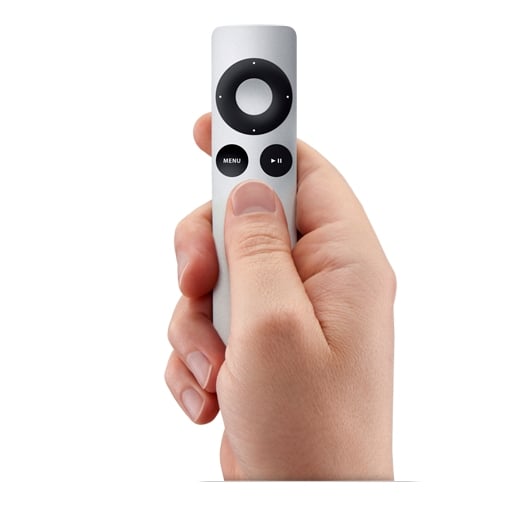 Although not as feature-laden as the Xbox One, the Apple TV seems to have a better handle on what consumers want for an all-in-one content delivery device, which is a simple and intuitive user interface. Although the current Apple TV has nowhere near the amount of features that the Xbox One has, it also has the distinction of being one of the cheaper Apple products with a $99 price tag.
The contest for a spot in consumers' living rooms is far from over.  One only has to look at the history of the digital media player or mobile phone to understand Apple's track record of success. Apple has a tendency to observe markets with shoddy content delivery systems before swooping in and delivering a superior user experience through a revolutionary content delivery device. Remember the portable digital music player market before Apple debuted the iPod? Neither does anyone else.
According to Jobs' biographer Walter Isaacson, the late Apple CEO told him, "I'd like to create an integrated television set that is completely easy to use. It would be seamlessly synced with all of your devices and with iCloud. No longer would users have to fiddle with complex remotes for DVD players and cable channels. It will have the simplest user interface you could imagine. I finally cracked it."
Although most people don't know exactly what Jobs "cracked," Apple users can probably safely assume that it isn't a device that has "included everything but the kitchen sink," as Alex Heath at Cult of Mac observed. On the other hand, if Apple waits too long, it may lose more users as initial products like the Xbox One become entrenched in the market.
Here's how Apple and Microsoft stock have traded this week.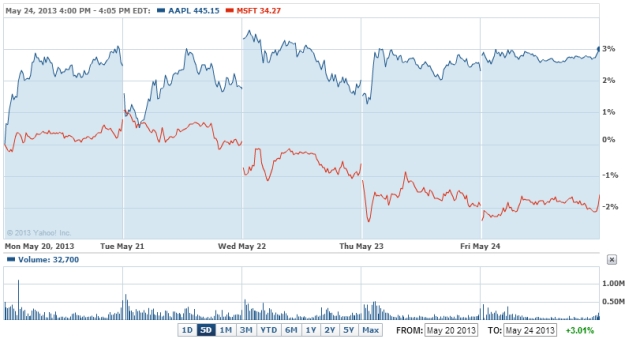 Follow Nathanael on Twitter (@ArnoldEtan_WSCS)
Don't Miss: Do Gamers Like Starcraft II: Heart of the Swarm?