Have Record iPhone Sales Set Apple Up for an Earnings Beat?
It seems like Apple (NASDAQ:AAPL) can't hiccup without breaking some sort of record, and then highlighting to the world how extraordinary that feat was. This is old-hat posturing in the tech world where the competitive spirit seems to boil down to "anything you can do I can do better," but Apple definitely takes the cake when it comes to illustrating its own narrative.
Case in point: the recently-released iPhone 5s and 5C. On September 23, Apple announced that it had sold a record-breaking 9 million devices in just three days (both phones were launched on September 20), and logged 200 million iOS 7 downloads, "making it the fastest software upgrade in history."
Apple has been doing this sort of thing for a while. The company will launch a new device, set a sales record, and drive both consumers and investors absolutely nuts. Consumers, although enthusiastic about new and improved tech, are sometimes miffed that Apple so rapidly iterates their devices into obsolescence. Investors, finalizing their forecasts for Apple's incoming earnings, have to deal with a torrent of new data just days before the quarter closes.
With record sales in tow, Apple has indicated that it expects fourth-quarter revenue to fall near the high end of its $34 to $37 billion guidance, with margins likewise at the high end of 36 to 37 percent. Analysts, for their part, are already right there. The mean revenue estimate calls for 2.4 percent growth on the year to $36.84 billion. Earnings are expected to contract 8.5 percent on the year to $7.93 per share (Apple does not provide its own earnings guidance).
In the third quarter, iPhone revenue grew 15 percent on the year and accounted for 52 percent of total revenues. iPad revenue declined 27 percent on the year but still claimed the number two spot with 18 percent of revenue, followed by relatively flat Mac sales at 14 percent of revenue. The phone is, of course, king, but investors should have an eye on tablet sales. Apple has reiterated its commitment to the segment, and a failure to turn sales around could force the company into a corner.
Although the iPhone is likely to remain the major source of Apple's revenue, it doesn't want to rely on it as a crutch. A sure way to lose to the Samsung (SSNLF.PK)-Google (NASDAQ:GOOG) is to only compete in one major product category. The still-nebulous launch date of the iPad mini Retina will be something to look out for. Apple will report its fiscal fourth-quarter earnings after the markets close on Monday. Here's how Apple has performed over the past few quarters.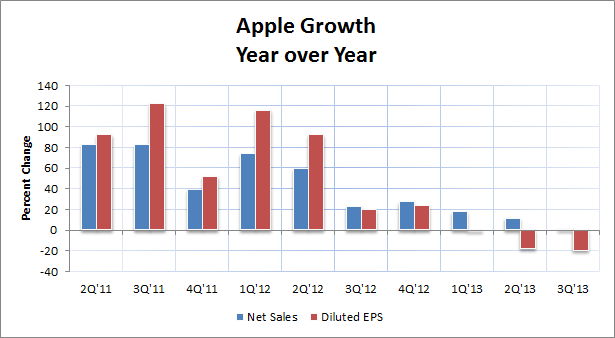 Don't Miss: The iPad Is the Web-Traffic Winner, Competitors Get Scraps.