Heavy Hitters: Adobe and Pandora Surge Higher, Rumors Surround Next Apple Event
Shares of Adobe Systems (NASDAQ:ADBE) jumped more than 4 percent in late afternoon hours. The computer software company reported weaker-than-expected earnings of 32 cents per share, but posted a 47 percent jump in subscribers. "We exceeded one million subscriptions during Q3, demonstrating that the transition to Creative Cloud is happening sooner than expected," said Shantanu Narayen, president and chief executive officer, Adobe. "We successfully completed the acquisition of Neolane, adding a critical cross-channel campaign management solution to the Adobe Marketing Cloud, which will further extend our leadership position in digital marketing."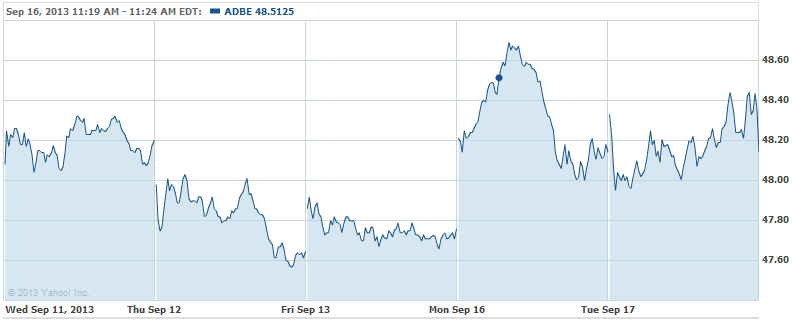 General Motors (NYSE:GM) shares jumped 1.4 percent on Tuesday and continued to edge higher in late afternoon trading. Consumer Reports named the new Chevrolet Silverado 1500 as the best pickup truck in the market, scoring 81 out of 100. The Silverado beat out the Ram 1500 because of its larger cargo bed, greater payload capacity, and ability to tow heavier loads. Still, "the reality is that you can't go wrong with either one," Jake Fisher, director of automotive testing for the report, said in a statement. "Both are capable trucks that get decent gas mileage and are as quiet inside as a good luxury car." Ford's (NYSE:F) F-150 came in third place. The Ford F-150 has long been the best-selling vehicle in the United States, but scored 70.

Despite plans to issue more shares, Pandora Media (NYSE:P) surged 5 percent on Tuesday and continued to climb higher in late afternoon hours. Pandora is conducting a secondary offering of 14 million shares. Pandora intends to use the funds for general corporate purposes, including working capital and capital expenditures. It may also use the proceeds for acquisitions.

Shares of Apple (NASDAQ:AAPL) increased 1.2 percent on Tuesday. Although it has only been about a week after the much-hyped iPhone premiere, some Apple pundits are already offering their predictions on when the next big Apple event will take place. According to unnamed sources cited by France's MacGeneration website via the Los Angeles Times, Apple will host a "new special event around October 15."

Don't Miss: Is Another Financial Crisis Lurking Around the Corner?
Follow Eric on Twitter @Mr_Eric_WSCS