Heavy Hitters: Alcoa Starts Earnings Season, Apple Faces More iPhone Concerns
Shares of WD-40 (NASDAQ:WDFC) surged more than 8 percent in late afternoon hours. The company reported quarterly earnings of 66 cents per share on revenue of $93 million. Analysts were only expecting earnings of 56 cents per share on revenue of $89 million. "We are pleased with our performance across the globe this past fiscal year, and have confidence in our ability to continue to leverage the WD-40 shield and to create solid growth in our core product lines," said Garry Ridge, president and chief executive officer. "As we continue to celebrate our 60th anniversary as a company, we are thinking big about our future as we strive to maintain growth in our multi-purpose maintenance products lines and implement our strategic initiatives."

Alcoa (NYSE:AA) shares retreated after initially climbing higher in late afternoon trading. The aluminum giant announced better-than-expected adjusted earnings. However, on an unadjusted basis, the company reported a net loss of $119 million, compared to a loss of $2 million a year earlier.

Shares of Intuitive Surgical (NASDAQ:ISRG) plunged more than 12 percent in late afternoon hours. The medical company announced that it expects second-quarter revenue to come in at $575 million, well below Wall Street expectations for $630 million. Gary Guthart, president and chief executive officer, explains, "While we are disappointed in our performance this quarter, particularly with respect to our capital sales in the U.S., overall procedure performance was solid in a difficult environment. We remain confident in the value that our products and services bring to patients, hospitals and the healthcare system."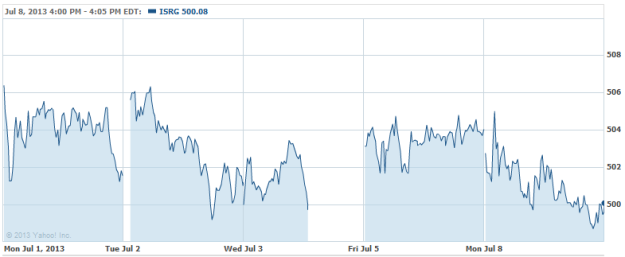 Apple (NASDAQ:AAPL) shares edged slightly lower on Monday and in late afternoon trading. Wedge Partners believes the company recently reduced its iPhone production forecast for the second half of this year by 20 percent. Analyst Brian Blair explains in a note, "Our expectation for the low cost iPhone continues to be that Apple will repurpose the iPhone 4 with a plastic backing that will allow the handset to sell at a retail price below $250." However, other suppliers may be used and shares recovered most of their losses throughout the trading day. Google (NASDAQ:GOOG) shares gained 1.3 percent on Monday.

Don't Miss: Do Americans Still Love Cars?
Follow Eric on Twitter (@Mr_Eric_WSCS)