Heavy Hitters: Apple Gains 1%, Angie's List and Akamai Drop After Earnings
Shares of AT&T (NYSE:T) edged slightly higher in late afternoon hours. AT&T reported quarterly earnings of 66 cents per share, slightly better than expected. Revenues for AT&T also increased 2.2 percent to $32.2 billion from a year earlier. "We're setting the standard for 4G LTE speeds and network reliability. Our fiber and U-verse expansion projects are ahead of schedule bringing high-speed broadband to millions more customers," said Randall Stephenson, AT&T chairman and CEO. "With these initiatives, we're seeing excellent growth across our major platforms — mobility, U-verse and strategic business services."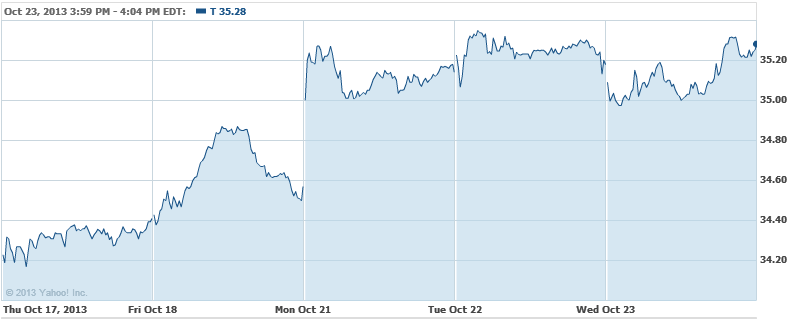 Apple (NASDAQ:AAPL) shares gained 1 percent on Wednesday and continued to attract attention in late afternoon trading. Apple is employing a similar strategy with its new line of iPads, which were unveiled at a media event on Tuesday, as it did with the new iPhone lineup debuted about a month ago by releasing the new tablets in China on the same day they become available in the U.S. China has become the world's largest smartphone market, and is rapidly growing in the tablet arena as well. The fifth-generation iPad from Apple, called iPad Air due to its ultra skinny figure, will be available in China on November first, the same day the new device launches in the U.S. On Wednesday, Jefferies analyst Peter Misek raised his EPS estimate on Apple and maintains a Buy rating with a $600 price target.

Shares of Akamai Technologies (NASDAQ:AKAM) plunged 5 percent in late afternoon hours. Akamai reported better-than-expected quarterly earnings of 50 cents per share, but earnings and revenue guidance was weaker than expected. "Akamai's strong third quarter and year-to-date financial performance highlights our ability to deliver innovative solutions to leading enterprises globally," said Tom Leighton, CEO of Akamai. "We intend to continue to invest in the business, while also effectively managing the cost and efficiency of our network, to help our customers capitalize on the opportunities enabled by the hyper-connected world."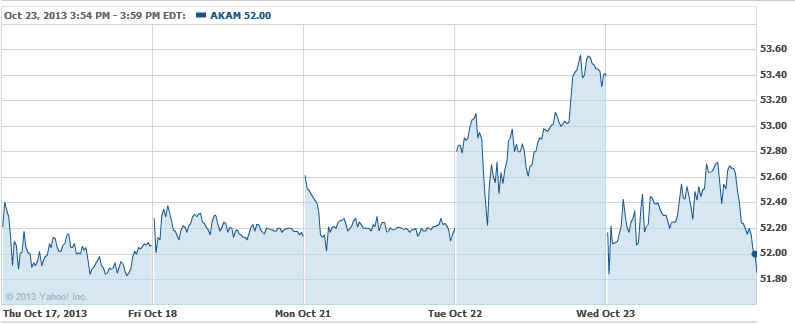 Angie's List (NASDAQ:ANGI) shares dropped 2 percent in late afternoon trading. Angie's list reported a quarterly loss of 23 cents per share, worse than Wall Street's expected loss of 20 cents per share. "We remain focused on producing strong unit economics and are pleased with our continued leverage improvement and solid cash position," said Tom Fox, Angie's List CFO. "In addition, we are quite encouraged by the growth we recorded from our e-commerce offerings during the third quarter." Angie's List also provided a weaker-than-expected guidance for the fourth quarter.

Don't Miss: Warren Buffett and Carl Icahn Teach a Valuable Lesson with Netflix
Follow Eric on Twitter @Mr_Eric_WSCS