Heavy Hitters: Apple Sets New Record, Amazon and Microsoft Surge Higher
Apple (NASDAQ:AAPL) shares dropped more than 1 percent on Friday, but the tech giant continues to see success with its products. Apple's latest desktop operating system is being adopted by users at a record-breaking pace according to recently released data from online ad network company Chitika. User adoption of Apple's OS X Mavericks in the U.S. and Canadian markets reached 5.5 percent within the first 24 hours after the software's release, beating OS X Mountain Lion's adoption rate of 1.6 percent last year. Chitika derived its data from millions of Mac OS X-based online ad impressions in its network. "We want every Mac user to experience the latest features, the most advanced technologies, and the strongest security," noted Apple senior vice president of Software Engineering Craig Federighi. "We believe the best way to do this is to begin a new era of personal computing software where OS upgrades are free."

Shares of Microsoft (NASDAQ:MSFT) closed 6 percent higher on Friday. Late Thursday, Microsoft reported quarterly earnings of 62 cents per share on revenue of $18.53 billion. Analysts only expected Microsoft to earn 54 cents per share on revenue of $17.79 billion. "Our devices and services transformation is progressing and we are launching a wide range of compelling products and experiences this fall for both business and consumers," said Steve Ballmer, chief executive officer at Microsoft. "Our new commercial services will help us continue to outgrow the enterprise market, and we are seeing lots of consumer excitement for Xbox One, Surface 2 and Surface Pro 2, and the full spectrum of Windows 8.1 and Windows Phone devices." Microsoft shares are up nearly 34 percent this year.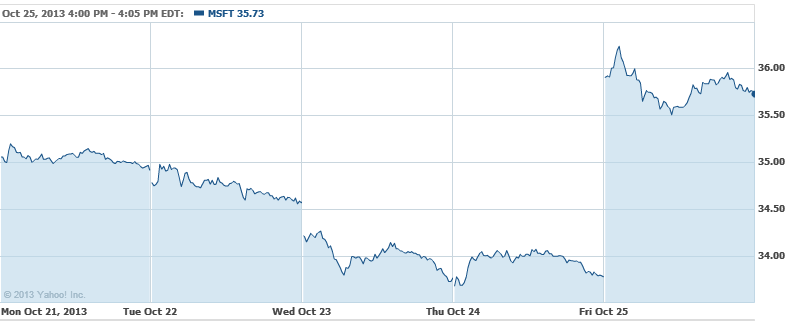 Procter & Gamble (NYSE:PG) shares fell almost 1 percent on Friday and continued to edge lower in late afternoon hours. Procter & Gamble reported that net sales increased 2 percent on the year to $21.2 billion, which includes a negative 2 percent impact from currency exchange, beating the mean analyst estimate of $21.05 billion. Core earnings fell 1 percent on the year to $1.05 per share, in line with the mean analyst estimate. Comparable diluted net earnings were up 8 percent on the year at $1.04 per share. Chairman, President, and CEO A.G. Lafley captured the mood, saying in the earnings report that Procter & Gamble's results "were consistent with our plans and expectations, putting us on track to deliver our goals for the fiscal year." The firm reiterated its full-year fiscal 2014 guidance, giving investors nothing new to look forward to.
Shares of Amazon.com (NASDAQ:AMZN) surged 9.4 percent on Friday. Late Thursday, Amazon.com reported a quarterly loss, but it was in line with expectations and revenue of $17.09 billion topped Wall Street's estimate of $16.77 billion. "It's been a busy few months—we launched a new Paperwhite and new Kindle Fires to positive reviews and surprised people with the revolutionary Mayday button—average Mayday response times are just 11 seconds," said Jeff Bezos, founder and chief executive officer of Amazon.com. Operating cash flow for Amazon also surged 48 percent to $4.98 billion for the trailing twelve months. Amazon shares are up 40 percent year-to-date. Shares of Amazon.com are up about 45 percent this year.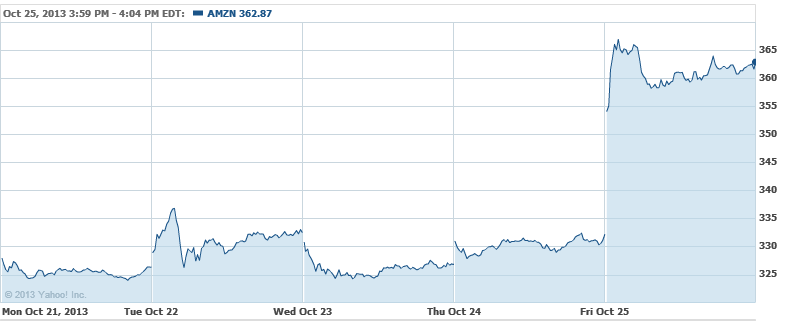 Don't Miss: College Debt: Kiss Your Retirement Goodbye
Follow Eric on Twitter @Mr_Eric_WSCS